How To Help Your Child Manage Exam Stress
Children and young adults learn in different ways, and each at their own pace. But with an education system that is largely results based and measures success by the grades pupils achieve, there's a lot of pressure around exam time. It can be a stressful time for all involved.
Yes, times are changing and schools are, on the whole, more nurturing. Ongoing assessments play an important role in grading a pupil's achievements and the curriculum is more diverse than ever, celebrating creative and practical skills alongside academic achievements. But when exam time comes around, kids undoubtedly feel the pressure to perform and the expectations are huge. It's easy to feel anxious and overwhelmed.
*this article contains affiliate links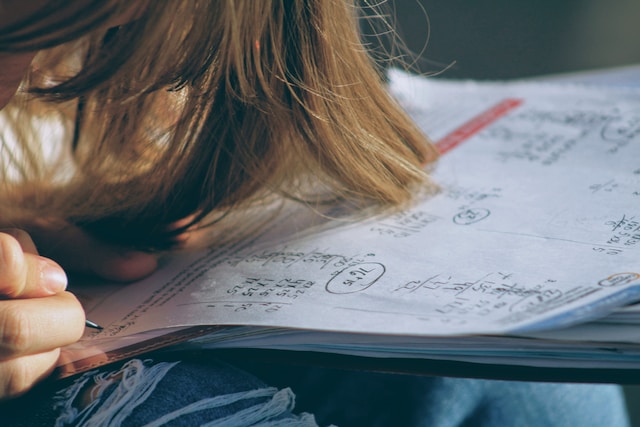 Signs That Your Child May Be Struggling
A certain amount of anxiety around exams is to be expected, but being aware of the signs that children and young people are feeling stressed can help to stop them spiralling. Common signs to look out for include:
Worrying a lot and feeling tense
Experiencing headaches and stomach upsets
Changes in sleep pattern
Eating more than usual or a loss of appetite
Feeling irritable and withdrawing
Not enjoying things that usually bring pleasure
Being negative about the future and low in mood
How To Support Your Child During Exam Time
As a parent or carer, there's a lot you can do to support your child at this time. Here are just a few suggestions to help them - and you! - get through the end of term exam season.
1. Be Present.
Life can be busy, but making time to be with your child and giving them an opportunity to share their concerns is one of the best ways to help them through this time. That's easier said than done, we know, with work responsibilities and with teenagers who, let's face it, often have their own agenda and priorities. But simply being there and being available as much as possible to listen to their concerns and reassure them can help them feel more at ease with the situation.
2. Make Life As Easy As Possible For Them.
Support your child with their studies by making sure they have somewhere comfortable and quiet to study. Give them the tools they need by helping them to get hold of past papers and revision cards, or helping them to draw up a study schedule, which includes regular breaks. And cut them some slack. Does it really matter in the scheme of things if their bedroom is untidy or they haven't done their share of household chores this week? This time will pass, and normal routines will be restored, so do what you can to make it easier for them to focus on study in the short term.
3. Help Them to Prepare, Not Compare.
Your child needs to know that you want them to achieve their potential, rather than comparing themselves to others or worrying about unrealistic expectations they set themselves or feel that others have of them. This applies to the amount of study they can do as well as the end results. Young Minds suggests that, if they are struggling you can encourage them to focus primarily on the core subjects they are studying, such as English, maths and science, as well as a few subjects that they enjoy. This might relieve the pressure and be enough to help them to progress to where they want to be in the next stage of their life.
4. Keep It Real.
It's important to help your child to keep a sense of perspective and one way to do this is to let them know you don't expect them to study 24/7. Encourage them to make some time for socialising or exercising during exam time. By all means promote study as a priority, and make it clear that this is definitely not a time for partying or big nights out, but meeting up with friends for their usual dance or sport activities or taking time out to watch a movie might help them to relax and talk through the pressures with their peers.
5. Nourish and Nurture.
Try to make sure your child is eating a healthy diet, drinking plenty of water and generally living as healthy a lifestyle as possible. That's not always easy, we know. Sometimes it's all about the quick fix that comes from sugary foods and caffeine drinks for a quick boost during study periods, but you can help by having healthy snacks on hand and prioritising healthy food in lunch boxes and at mealtimes.
6. Promote A Good Night's Sleep.
The benefits of a good night's sleep are well documented, and for a teenager that means around 8 - 10 hours sleep a night. There are things you can encourage to help them to prepare for a good night's sleep, such as avoiding caffeine in the evening and turning off electronic devices at least an hour before bed. A regular routine is also important but it's important to remember that a teen's sleep pattern is different from those of adults or younger kids. Their circadian rhythm tells them to fall asleep later and wake up later, so it's understandable if they sleep in a bit at the weekend or on home study days.
7. Stay Positive.
Let your child know that you are proud of the effort they are putting in, whatever the outcome, and remind them that it's ok to feel nervous. Feeling stressed before an exam is a natural reaction for most people, and the stress hormones your body produces, like a rush of adrenalin, can actually help you focus in the exam setting. So remind them of their talents and their strengths to help them feel more confident and reassure them that what they are feeling is a natural reaction to a stressful situation.
8. Talk It Out.
Encourage your child to talk to you about their worries. Often a fear of exams is associated with a fear of the future, and that's a big burden to carry on young shoulders. Many of us grown ups are still trying to figure out what to do with our lives! So encourage them to share their concerns and help them to keep things in perspective. Remind them that exam results do not determine a person's potential and they do not define what you can achieve in life.
9. Practice Self Care.
And finally, you need to be in a good place yourself if you want to help someone else so this is priority number one for anyone supporting kids who have exams coming up. They pick up on your emotions and know if you are feeling stressed, which will only feed their anxieties. So it's important to remember the 'oxygen mask' metaphor and look after yourself first.
If you think your child is not coping well, it may be helpful for them, or you, to reach out to a member of staff at their school for support. They will be able to offer guidance and signpost you if further information or help is needed.
*this article contains affiliate links