9 Places to Eat Outdoors in Guernsey
Summer is here! The days are warmer and the evenings are longer, so we've pulled together a list of our favourite places to enjoy a spot of al fresco dining. Whether you're looking for a casual catch up, a leisurely lunch or dinner with friends, we think there's something for everyone on the list!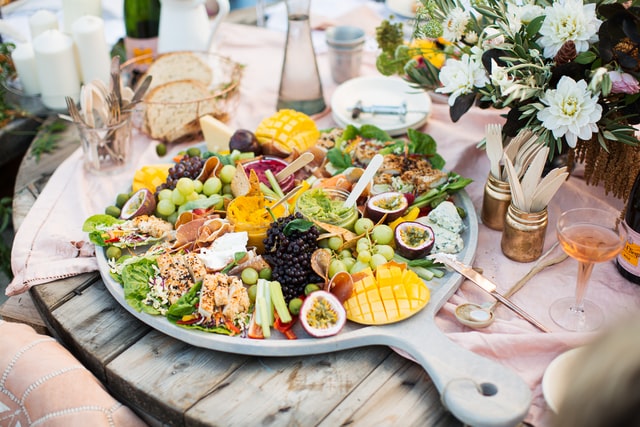 1. Stocks Poolside Bistro
The poolside bistro and bar at Stocks is a great place to enjoy a casual lunch on a day trip to Sark, or a relaxed evening meal if you're staying over... and it's definitely up there as one of our favourite al fresco destinations. The pool is tempting on a hot day, but it's the food philosophy that really pulls us in. Did you know that the hotel has a 'Sark local' policy, sourcing supplies from within 5 mile radius of the hotel where possible - and this includes the exclusive 3 mile territorial waters around Sark for fresh fish and seafood. A lovely way to spend a lazy afternoon.
2. The Imperial
The Imperial is a new favourite of ours. The beer garden is a great place to stop off for a casual bite to eat and a refreshing drink after a walk to the Fairy Ring and the cliff paths beyond. Or maybe you want to round off a day on the beach at Portelet with dinner before you head home? The restaurant is gorgeous, so bright and airy and a very relaxing atmosphere, with stunning views out to sea… oh, and the food's not bad either! We recommend the fish and chips.
3. Cobo Bay
This bay gets a mention in its own right, as there are quite a few options here to choose from. The Beach Terrace at the Cobo Bay Hotel is a great place to sit outside and enjoy a luxurious seafood lunch, or pop next door to the Rockmount for a 'Rocky Classic'. If you're looking for a more casual option, you can't beat fish and chips on the beach…watch out for those pesky seagulls though!
P.S. Have you entered our latest giveaway? You could win a large cheese and charcuterie grazing box from The Grazing Kitchen for a luxurious picnic on the beach… it's a plentiful graze for four or a lighter graze for sharing between six - outdoor eating made easy!
4. The Terrace Garden Cafe
The Terrace Garden Cafe is a great place to grab lunch or an early dinner in town in the sunshine. Its elevated position on the corner of Cornet Street gives you great island views across the harbour. As well as the sandwiches, wraps and burgers you might expect from a cafe, the best thing about the Terrace is the Asian menu. There's a great selection of Thai noodles and Asian street food, with quite a few vegetarian options. Enjoy!
5. The Slaughterhouse
This historical building by the harbour has a sheltered courtyard where you can sit outside and unwind with a snack or a drink from the Prosecco bar, and there's also a raised private terrace serving food and drinks, with views out over Havelet Bay. At The Slaughterhouse, there is a selection of steaks and burgers on offer, but you'll also find fish and veggie options on the menu, so there's something for everyone.
6. Octopus Bar & Restaurant
The terrace at Octopus has a stunning outlook over Havelet Bay, taking in Castle Cornet with views of Herm and Sark in the distance. It's a great place for breakfast, lunch or dinner. The menu has a distinctive French feel, with classics such as Moules and Croque Monsieur. It also has a dedicated menu for hungry kids, and it's a favourite family spot for a family breakfast. Start with an early lunch and stay all day.
7. The Mermaid
A trip to Herm isn't complete without a stop off at the Mermaid Tavern, which offers casual dining in the courtyard. It's a must during the summer months! Of course, another al fresco option in Herm is a sandwich and ice cream on Shell Beach or Belvoir Bay… summer just wouldn't be complete without a sandy picnic on the beach!
8. Les Douvres
For a dip and dine experience, pop along for lunch to Les Douvres, a favourite with locals for delicious gastro-pub dining. The food is simple and rustic, using local produce wherever possible… but as everyone knows, it the pizza that stands out. Some may say... best pizza ever?! We're not getting involved...
9. Beach Kiosks
There are too many kiosks to mention, and they all serve their own unique purpose. Whether you're looking for a quick stop for a bacon bap and a coffee, or you'd like a more sophisticated bistro cafe with crab sndwiches and scallops, there's something for everyone with our range of kiosks dotted around the island. Some are perfectly placed for a refreshing drink on a cliff walk, and of course there are quite a few traditional beach kiosks to keep you stocked up the snacks and ice creams you'd expect for a day on the beach. We love Woodies at Bordeaux Harbour for a relaxing coffee with a view out to Herm, the Beach Cafe at Fermain for a special summer day out and the Moulin Huet Tea Room is a great way to round off a cliff walk. In fact, this is probably another list in itself, right?
Got more to add to The List? Let us know over on Facebook.