Our Round Up Of The Festive Markets For 2022
It's that time of year when Christmas markets and charity fayres start to pop up all around the island, giving us the opportunity to support local makers and small businesses. It's a great way to meet some of the many local artisans here in Guernsey while you get to grips with your Christmas shopping… and it's also an excuse to find something to keep for yourself!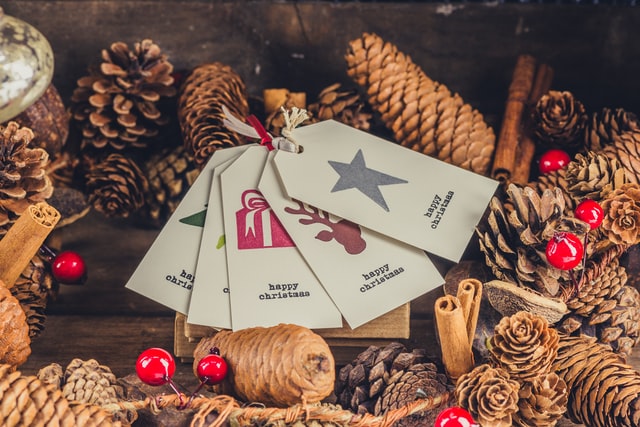 Early Christmas Market
Sunday 13th November Rohais Badminton Halls, 12 noon - 4.00pm
This early indoor market is featuring lots of local small businesses, and you'll also find refreshments, homemade cakes, a bar and the Mims Kiosk mobile food van will also be there. Stay around for the live raffle which will be drawn at 3,45pm.
Early Christmas Market
Sunday 13th November at Les Cotils, 1.00pm - 4.00pm
Another early Christmas market is taking place at Les Cotils, showcasing lots of local small businesses and artisan crafters and giving you an opportunity to get ahead of the game and bag a few gifts and stocking fillers.
Winter Fayre
Sunday 13th November at The Peninsula Hotel, 11.00am - 5.00pm
The Winter Fayre at the Peninsula is back again for 2022. Once again a wide variety of local small businesses will be sharing lots of gift ideas for the festive season. The restaurant and bar will be open throughout the event.
KGV Christmas Market
Saturday 19th November at the KGV, 1.00pm to 5.00pm
The KGV is hosting over 30 local stallholders to help kick start your festive shopping. There will be hot food, with mulled wine for the grown ups, a visit from Santa for the little ones... and face painting for all! There's extra parking at Shiloh Church if it's busy.
The Farmhouse Christmas Fayre
Sunday 20th November at The Farmhouse, 11.00am - 5.00pm
A gathering of local stallholders who will be selling gifts, decorations and a selection of food and sweet treats at this traditional Christmas Fayre, and the bar will be open if you're looking for a festive drink to round it off.
Made in Alderney Market
Friday 25th November at La Ville, 5.00pm to 8.00pm
This Made in Alderney craft market forms part of the Festive Alderney programme of events this winter. Pop along to support local traders and artisans while you get ahead with your Christmas shopping. It's also a late shopping night, so you can browse Victoria Street's boutiques and round it off with a mulled wine in one of Alderney's cosy bars.
Late Night Shopping in the Vale
Friday 25 November at The Vale Douzaine Room from 6.00pm to 9.00pm
Start your weekend with a selection of over 30 Stallholders, Small Businesses & Artisan crafters at this late night Christmas shopping event in the Vale.
Beaucamps Christmas Fayre
Saturday 26 November at Les Beaucamps High School from 1.00pm to 4.00pm
You'll find lots of local stall holders selling gifts and crafts, plus a raffle with prizes that include £500 cash and a meat draw courtesy of Surf and Turf..
Christmas Evening Market
Friday 26th November at The Vale Douzaine Rooms, 6.00pm - 9.00pm
Pop in and browse an array of festive gifts at this Evening Market event in the Vale, where you'll find lots of stalls to get you in the mood for Christmas.
Traditional Christmas Fayre
Sunday 27 November at St Pierre Park Hotel, 11.00am to 5.00pm
Look forward to exploring over 60 local stalls selling gifts, decorations, food and more at one of the bigger Christmas events taking place this year.
Torteval Christmas Fair
Sunday 4th December at Torteval Parish Hall, from 11.00am to 4.00pm
Head out to Torteval for this Christmas event, and enjoy a coffee, a mince pie and browse the stalls for some festive treats to help you get into the Christmas spirit.
Active Guernsey Christmas Market
Sunday 4th December at Beau Sejour, 11.00am - 4.30pm
You'll find over 80 stalls at the Active Guernsey Christmas Market this year, raising funds to help local people with learning difficulties to go on holidays and take part in leisure activities throughout the year. Treat yourself to some gorgeous handmade festive creations while you're there!
St Martins Christmas Market
Saturday 10th December at St Martins Community Centre, 11.00am to 4.30pm
Support local stallholders at this Christmas Market Event. You'll find stalls selling sweets and chocolates, handmade jewellery, beauty products, Christmas gifts, food hampers, Christmas cakes, biscuits and more!
Big Christmas Market
Sunday 11 December at the Rohais Badminton Halls, from 12 noon to 4.00pm
This festive indoor market will host lots of local small businesses, and you'll also find refreshments, homemade cakes, carol singers, a raffle… and maybe even a visit from Santa!
Christmas Courtyard Market
Monday 12 December at the Saumarez Park, from 5.00pm to 8.00pm
The National Trust is hosting it's annual Christmas Market, set in the cobbled courtyard surrounded by heritage buildings in the park. The evening will be magical, with the Guernsey Glee Singers singing Christmas carols around the tree and a guest appearance from a professional magician.
Herm Christmas Shopping Trips
Various evening and weekend dates
Ok, so we know this isn't technically a market, but it is a bit of a Christmas tradition! We know many of you look forward to the Herm Christmas shopping trips and for the first time they're also running a few Thursday evening boats alongside the weekend trips. With special discounted boat fares of just £5 for adults and £2 for children, it's an excuse to browse the Herm gift shop, take in a walk and savour a mulled wine at the Mermaid. Enjoy!
Are there more markets taking place? Get in touch & we'll add them to The List!