The Best Summer Cocktails and Where to Find Them
Hello Summer! The sun is shining, the days are long and it's time to embrace the warm summer evenings here in the Bailiwick with a classic cocktail or a refreshing mocktail in a great location. Here's a round up of our favourites.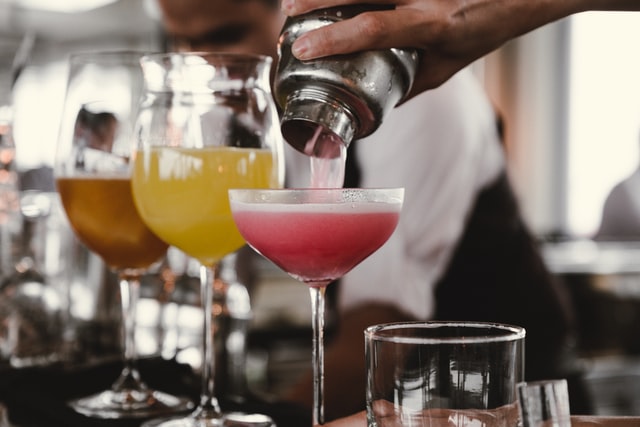 1. An Aperol Spritz By The Harbour
If you're thinking cocktails by the harbour, the courtyard at The Slaughterhouse is a great place to unwind. We're tempted by an Aperol Spritz, as an alternative to a glass of fizz from the Prosecco bar. This aperitif is Italy's answer to Pimms… a long, leisurely cocktail containing aperol, prosecco, soda and orange juice. Can't go wrong really.
2. Something Fun & Fruity Along The Front.
We've actually chosen two fruity options from Balthazar on the seafront because we can't decide which one is our favourite! We're torn between a Strawberry Daiquiri and a Raspberry Cosmo (we also recently spotted a watermelon special that looked very tempting!) The Daiquiri is packed full of fresh strawberries with strawberry liqueur, rum and fresh lime juice. The Cosmo on the other hand has fresh raspberries, raspberry liquor, vodka and cranberry juice… do you see our dilemma?! Which one would you go for? Yep... both!
3. A Mocktail With A View
If you are part of the growing sober curious movement, pushing back against the expectation to drink alcohol at every social event, then head up to the top floor of The Hook where the bartenders are ready and waiting to serve up one of the most extensive range of mocktails we've seen on island. Our favourite is the Ginger Apple Mojito, made with apple, ginger, mint and lime and topped off with Fever-Tree ginger ale. Delicious.
4. A Quick Tipple on Alderney
The Georgian has a few cocktails on their menu but if your favourite is missing from the list, just let the bar staff know and they will be happy to whip you up one of the classics, or maybe even a bespoke Alderney special. We're not putting any recommendations out there, we're leaving this one to you... have a think and put the team to the test, we're sure they'll rise to the challenge!
5. Bubbles on the Terrace
The view from the terrace at Copenhagen is hard to beat, looking out to sea over town and taking in Castle Cornet from up high at Havelet. We're tempted by cocktails with some fizz after tackling that hill, and there are two to choose from. The Bubbles cocktail is the sweeter option of the two, made with passion fruit liqueur, passion fruit purée, vodka and prosecco. If you're looking for something more refreshing, the Copenhagen Hugo is a mix of elderflower liqueur, lime cordial, lime, fresh mint and prosecco. Or try both!
6. A Tequila Sunrise At Sunset
If you like your cocktails served with a stunning sunset, head over to the fabulous cocktail bar at La Reunion on the west coast. They have an extensive cocktail menu, which includes all of the classics alongside their range of Signature and After Dinner cocktails. There's also a great selection of non-alcoholic cocktails on offer, including their Virgin Mojito with fresh lime, mint, brown sugar and lemonade and an Elderflower Fizz made with elderflower cordial, lime juice and ginger ale. See you there!
7. It's Always Margarita Time
Head to Búho for the 'crown jewel' of the cocktail world, the Margarita, which combines the tang of lime and the sweetness of orange liquor with a healthy shot of tequila. If you're looking for a modern twist on this classic, try their special Blue Margarita. It's the classic cocktail base with a touch of Blue Curaçao thrown in making it 'the prettiest drink for a Cinco De Mayo party'. These Mexican specialities are best enjoyed whilst taking in the spectaular view over Fermain Valley, so secure a spot on the terrace.

If you're looking for tasty non-alcoholic alternatives to try at home, take another look at our Merry Mocktails recipes - you can create these drinks at home and give them a fresh summer twist with some seasonal fruit or berries.