10 Quick Self Care Ideas to Help You De-Stress
A gentle reminder to check-in with yourself today. Taking time for yourself and making your wellbeing a priority can help to feel better any day of the year, so try some of these quick and easy self care ideas today to reduce your stress levels and live life well.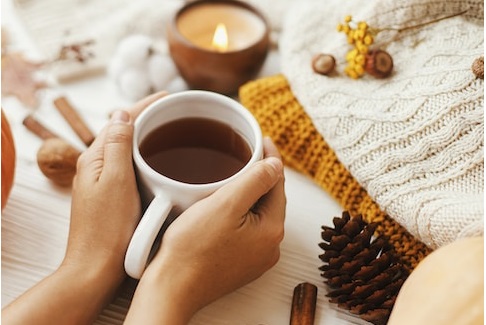 1. Take a Moment.
Sit quietly for 10 minutes and take time to enjoy your morning coffee, it will set you up for the day. This is something we make a huge priority for ourselves here at The List.
2. Hug It Out.
Give someone a hug. Human beings crave connection, both physical and emotional, and it's something we've come to appreciate even more in recent times. So if you can, hug it out! It's probably best if this is with someone you know and like, but we'll leave the finer details to you.
3. Breathe.
Take a deep breath… then another… and another…. and keep going until you feel less stressed. Most of us don't use our full breath. Breathe deep and slow to calm your system down.
4. Get Outside.
Get some fresh air. Whether it's a brisk walk along the coast or a short trip around town in your lunch break, being outdoors can help you to reconnect with nature and reduce your stress levels.
5. Book a Treatment.
You deserve it. It doesn't have to be a special occasion. It might be too late to have that massage or manicure today, but you'll feel good knowing that it's coming.
6. Create a Spa Feel at Home.
Create your own sanctuary at home. Light a scented candle, put on some music and relax in the tub with some luxurious bath salts or bubbles. Indulgent? Yes. Necessary? Yes. Looking for inspiration? Take a look at 5 Ways To Escape In Your Own Home.
7. Pick up the Phone.
Nope. we don't mean 'device'. Don't start scrolling. Call someone. Connecting with family and friends can help us to relax and relieve stress by talking things through or simply by having a good laugh.
8. Spend Time with Your Pet.
Research from Washington State University shows that as little as 10 minutes playing with a cat or dog can lower stress levels. Don't have one? Head to a friend's house or pop to the park. Or go the extra mile with these 8 Ways to Help Out at the Animal Shleter.
9. Treat Yourself.
It's time to appreciate the little things that may feel out of the ordinary for you. Light a luxury candle, buy a new book or cook something special for dinner tonight. Elevate your experience of the every day.
10. And Finally... Smile!
Research has shown that smiling can reduce your heart rate and help you de-stress, even if you're faking it! It won't make your problems go away, but for those short-term stressors, such as sitting in traffic queues, worrying about being late - smiling really can make you feel a little bit better. And no, we don't care what we look like smiling in our cars or walking down the street. Smiling is contagious, right?
If your stress levels are affecting your health or your day to day life and you feel that you cannot control them, then please make sure that you reach out to a professional. It's important to ask for help.