6 Ways To Make The Most Of Your Outdoor Space This Summer
We've come to appreciate outdoor space so much more over the past few years. Many of us are making more of an effort to head to the beach, explore the ruettes tranquilles or hop on an electric bike to get around the island. But are we making the most out of the outdoor space we have right on our doorstep?
Your 'garden room' might be a small space on your patio or balcony, or it might extend the length of your garden. Either way, it can be a great place to retreat to for a quiet moment or a social space to entertain friends. We've got some ideas to help you transform your outdoor space into an extension of your home... Let's go!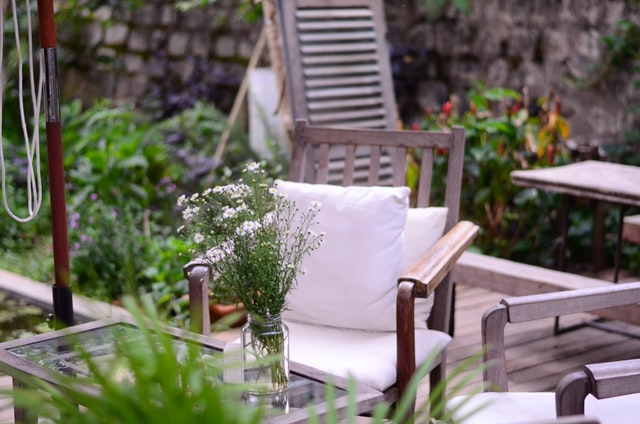 1. Take It Outside
Invest in quality outdoor furniture that is both stylish and comfortable. You wouldn't relax on wobbly plastic chairs inside, so they're not going to give you much satisfaction outside either, right? Style your garden furniture with comfortable seating and dining furniture to bring a sense of luxury to your outdoor space. Think about the time you're most likely to use your garden space and plan your design to ensure you get the most of the sunshine, but also have sufficient shade. This can be done naturally by using trees, or use a parasol or canopy to find the balance.
2. Have Fun With It
Your outdoor space is somewhere you can let your imagination go wild and have fun with more adventurous style. The natural surroundings change with the seasons, so you can go more with the flow and embrace a less strict approach. Bright and bold colours that might feel too dramatic for your neutral indoor palette inside can seem more accessible outdoors. Maybe you've always wanted a little more sparkle in your life, or you've admired animal prints from afar… this is where to go for it! Have fun with your outdoor space and unleash the designer that lives within you.
3. Accessorise With Style
Give this outdoor space the same attention to detail that you would apply inside your home. Include personal touches like placemats, tealights, candles and maybe even some bunting. Why not bring in a water feature and think about using outdoor mirrors and wall art? Style your table, using great glasses and crockery to make outdoor meals feel special. You can use some of the flowers and foliage from the garden to dress your table, or use strategically placed planters to define the space. Cushions and throws are both practical and stylish additions to any outdoor seating area…. we could go on!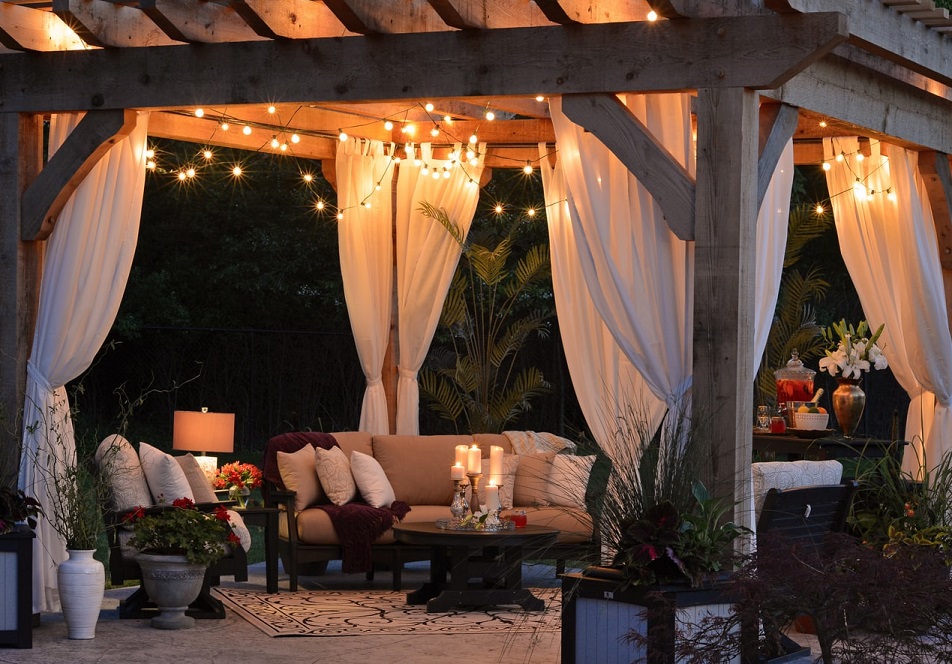 4. Lights Up
Just because the sun goes down, that doesn't mean the party has to end. Stylish lighting can transform your garden or balcony and enable you to enjoy a few more hours outdoors on warm evenings. Experiment with different styles in different areas. Hang string lights on balconies and pergolas, or use candles, tea lights and lanterns for a romantic and cosy glow. Strategically place your lights to highlight paths, dining areas or water features, and invest in a few stand alone feature pieces for that extra wow factor. You'll find solar options for most outdoor lighting styles so there's no need to worry about electrical wiring or tripping over extension cables.
5. Avoid The Chill
Yes, we get lots of long sunny days here in Guernsey, but there can be a chill in the air after the sun goes down, so you might need some form of heating to tempt you to stay outdoors for longer too. This can be as simple as a luxurious throw or a soft woollen blanket, which has the added advantage of looking great. That's style and function. Ideal. If you're looking for a more substantial form of heating, firepits are a great choice. They're a great place to huddle around for long chats and you can cook on them too. It's a win win.
6. Commit To Outdoor Living
You might not be able to leave your garden room fully set up, but the more accessible and 'ready to use' it is, the more often you'll gravitate towards it. If the lights are set up, the heating is good to go and the cushions and throws are stored nearby, you'll be more likely to use this space on a regular basis. Make it as easy as possible and use it as often as you can. You don't want to set up every time you feel like using it.