8 Ways to Beat The Winter Blues
Some of us embrace the shift in seasons, but for many, the winter months can be a real struggle. The dark mornings, lack of sunshine and cold weather can affect our mood and make us feel down. We're tired, lack motivation and the desire for a duvet day becomes overwhelming.
But as tempting as it may be, staying in bed from now until Spring just isn't an option! So we've pulled together a list - of course! - of top tips to help you beat the winter blues.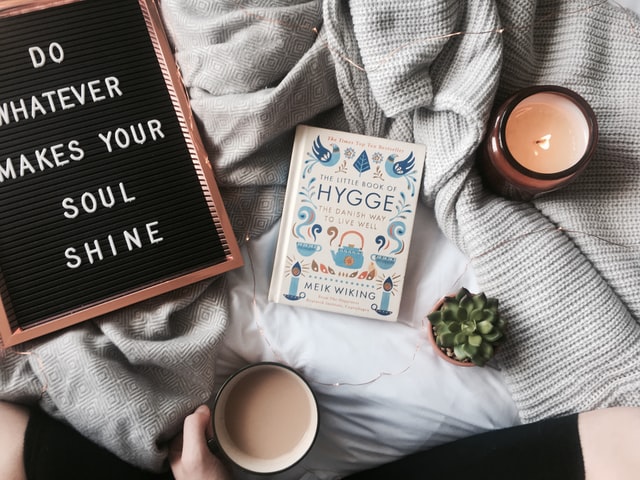 1. Sunshine Vitamins
As most of us tend to stay indoors more over the winter months, Public Health Guernsey recommends that we take Vitamin D3 supplements during winter. This can help to keep our bones and muscles healthy and can also give a boost to our immune system. Vitamin C is also known for its immunity boosting properties by helping to keep our white blood cells healthy, which in turn helps us to protect our bodies against infection. Most people are able to get enough Vitamin C from their diet, unlike Vitamin D3, which often needs to be supplemented at this time of year. You can pick up both supplements from Boots, Waitrose or Healthspan.
2. Eat Well
Whilst we are all about moderation, it can be tempting to grab all of the beige foods, when the salads of summer are long forgotten. Instead, try to stick to a healthy diet that is rich in protein and seasonal vegetables - think hearty stews, homemade curries and delicious soups. Your diet has a direct effect on your mood and energy levels, so if you know your motivation levels are likely to drop over winter, try to prepare healthy meals filled with all of the colours of the rainbow in advance. We love batch-cooking and freezing individual or family portions of dishes, so that you can reach for a balanced meal rather than more processed food as soon as you get home on those cold, dark evenings.
3. Stay Hydrated
Drink up! Don't forget to stay hydrated during the winter months. Research shows that drinking plain water is associated with a decreased risk of depression and anxiety. Who knew?! Now, we love a latte or cappuccino as much as the next girl. And who doesn't love a hot chocolate to warm up on a cold day? Not to mention a glass of red wine in front of a crackling fire. But don't forget to drink water! Your body needs it throughout the year - not just in the summer when you feel like it. The festive season is upon us and we're all about moderation, but we all know that alcohol, sugar and caffeine have been shown to dehydrate the body and affect mood, so try to keep a balance - and stay hydrated!
4. Natural Light
Spending time outdoors can help to lift your mood, even on cloudy days. Studies have shown that exposure to natural light helps your body to boost its levels of serotonin, the body's feel good chemical that helps to regulate your mood.
Whether it's a long hike along the cliffs at the weekend or a short walk around town during your lunch break, wrap up warm and head outside to make the most of the daylight hours.
Fun Fact: Did you know that in Guernsey during the winter solstice, the shortest day of the year, there are only 8 hours and 9 minutes of daylight?! That may not be much, but spare a thought for our fellow Islanders up in the Scottish Shetland Isles. They will see only 5 hours and 49 minutes of daylight, with the sun rising at 09.08am and setting at 14.57pm!
Let's make the most of the extra couple of hours we have here and get outside!
5. Bring the Outdoors In
If you can't get out as much as you would like - or if the rain really doesn't stop for days on end, then try to bring the outdoors in. Throw those curtains wide or open up the blinds and let in as much daylight as possible. Try sitting by a window to absorb as much sunlight as you possibly can. Invite Mother Nature into your life with flowers and indoor plants, or maybe even a living wall (we love Auburn Living Walls!) Fresh air is also crucial and it can get stuffy when the heating is on, so don't forget to crack the window open for a bit, even on chilly days.
6. Wear Bright Clothes
Colour is an amazing source of energy and has the power to trigger the release of dopamine, the happy hormone that is responsible for feelings of wellbeing and happiness. By injecting a splash of colour into your wardrobe, you can deliver a quick fix of mood enhancing cheer, and wearing bright, warm colours will not only cheer you up, those around you will also benefit from seeing the colours you wear. It's a win-win.
7. Reach Out to Others
With shorter days and wet weather, it can be a little more difficult to keep in touch with friends and family, but it's good to know that a quick chat can really help to lift your spirits… and could be just what the person on the other end of the call needs too! If you can meet up in person, why not arrange it in advance? You're more likely to stick to plans you have already made, rather than relying on impulse decisions that happen much more often when the sun is shining (beer garden or beach anyone?!). Also, let your friends and family know how you are feeling so you can support one another in times of need. You don't necessarily have to leave the couch - just invite someone over to watch that boxset with you!
8. Embrace Hygge
Pronounced "Hoo-Guh", this Danish concept means to embrace all things cosy and enjoyable that promote wellbeing, ideal for this season. It's all about making time to relax and focusing on the simple things in life (our inspiration for creating this site!) so turn off your notifications, step away from your computer and enjoy some me-time. Light a candle, make some cocoa, wrap yourself up in a warm blanket and get stuck into a good book. Go Danish for a few hours - there's a reason the Danes consistently rank among the happiest nations in the world!