Welcome to The Ultimate Christmas Gift List 2023
If you're gifting this year, pick something they will actually love and use. We've scoured local shops and websites to find some of the best gifts for your friends and family this Christmas. Everything on this list is either available to buy in Guernsey - or can be easily shipped to Guernsey. You will find a good mix of well loved brands, as well as local, small business products that need to be on your radar.
Let's get into it.
This article contains paid product placements and affiliate links, but all products featured are approved and loved by us.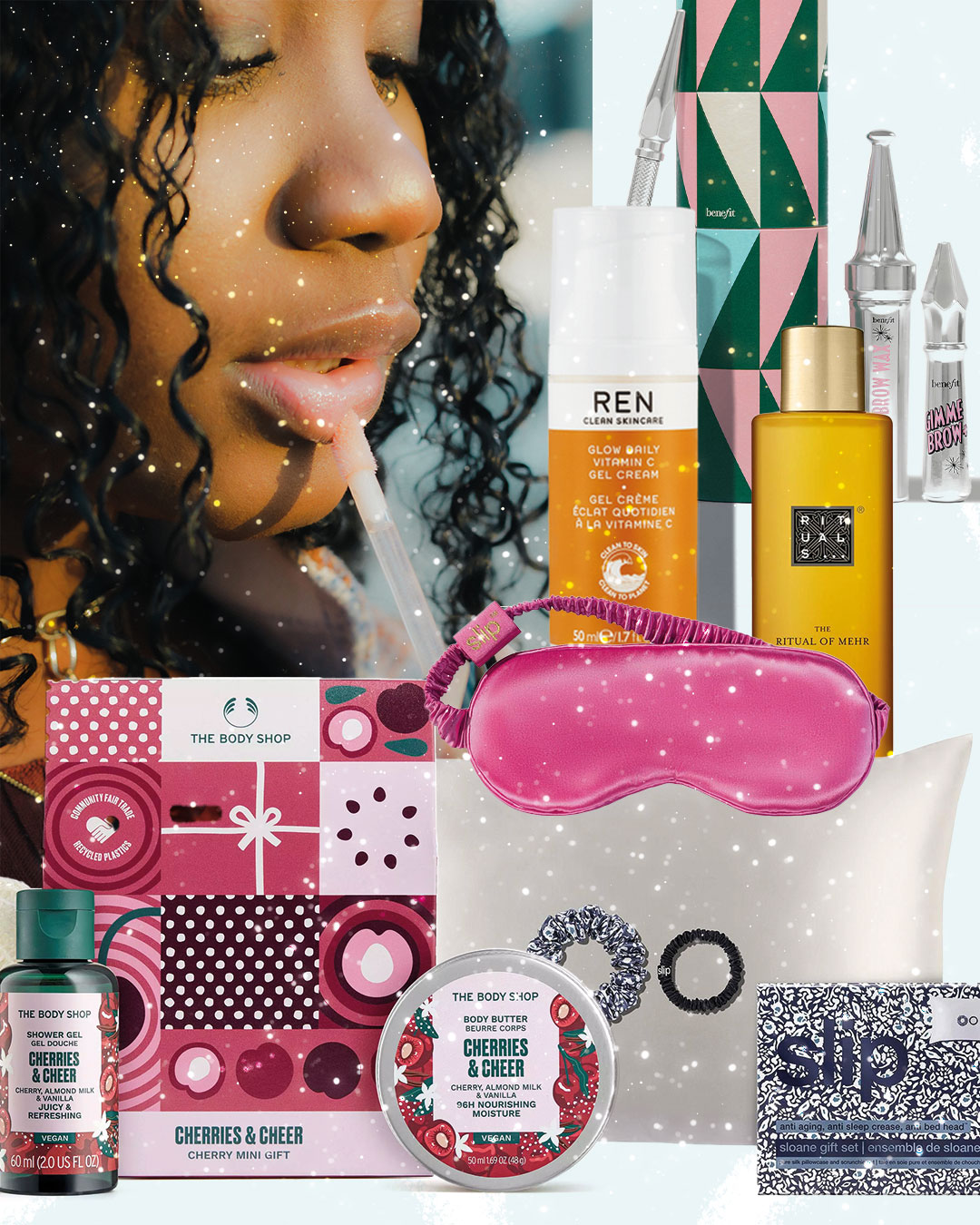 For the Self Care Prioritiser.
Cherries and Cheer Mini Gift. £10, The Body Shop.
A cute little set with a few classic faves in a fresh cherry scent. It's like gifting a festive evening of self care to someone who needs it.
GISOU Honey Infused Leave In Conditioner. £26, Sephora.
This honey and argan oil infused spray detangles and conditions your hair whilst hydrating it in the long run. A favourite of Stef's. Perfect for curly hair.
REN Glow Daily Vitamin C Gel Cream. £42, Plaisirs.
This is a hero product in our eyes. Use for just a couple of days and see a noticeable glow in your skin. Worth EVERY penny. You might have to pick one up for yourself too.
Fluffin Festive Brows Precisely my Brow Pencil & Brow Gels Gift Set. £37, Benefit.
Everyone wants good brows, especially during the festive season. Gift this set of 3 full-sized award-winning products to someone on the go.
SLIP Queen Gift Set Sloane. £95, Sephora.
Silk pillowcases and hair accessories are the best kept secret of those with luscious locks, as they protect the hair from friction and breakage as you move around.
Slip® Pure Silk Sleep Mask. £50, Sephora.
A sleep mask, made with slipsilk™ and designed for 8 hours of uninterrupted beauty sleep.
RITUALS The Ritual of Mehr Shower Oil 200ml. £8.50, Sephora.
We love a gift that gives an experience like a very special shower oil that can be enjoyed daily.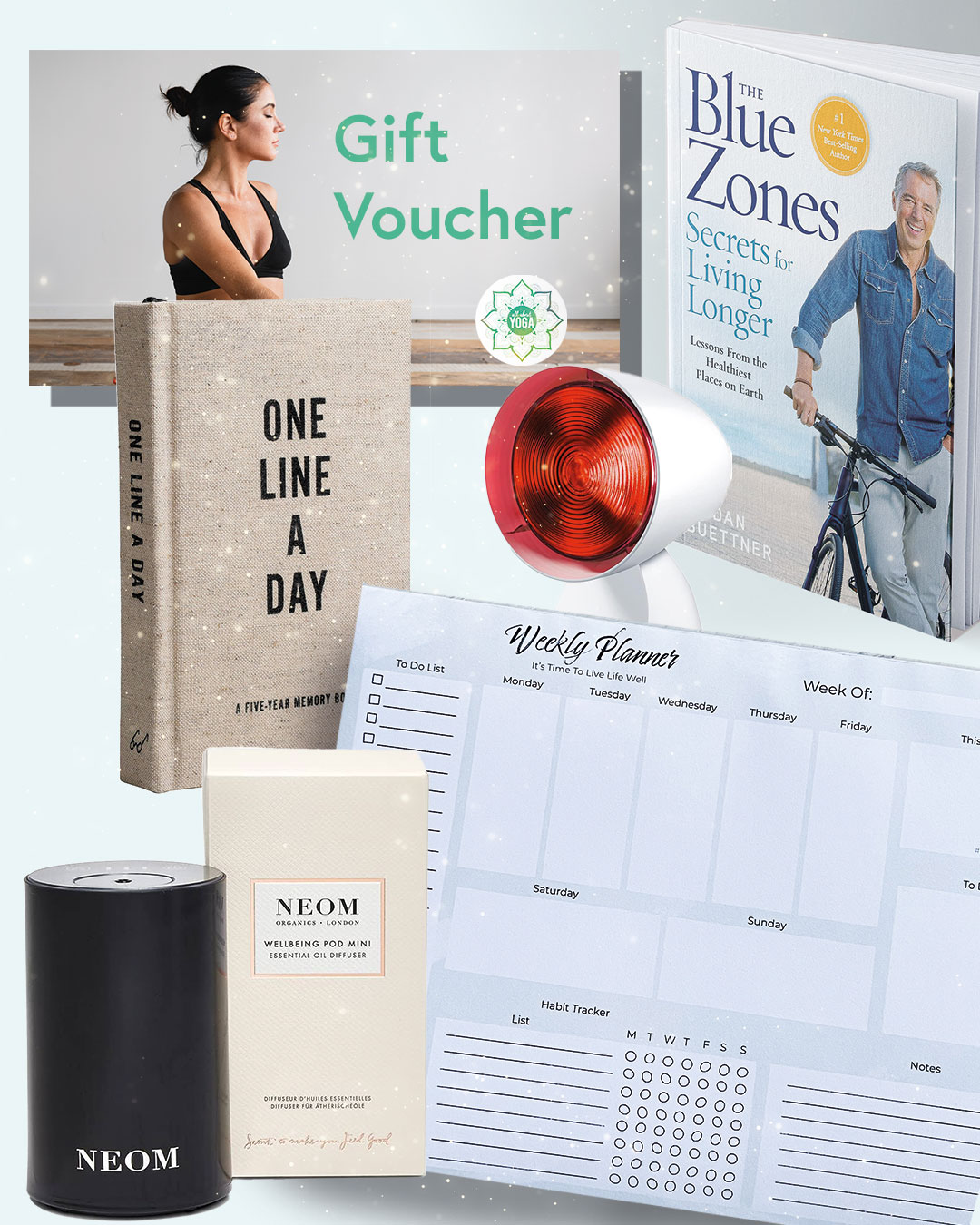 For the Wellness Obsessive.
Yoga Class Passes. £57 for 6 or £90 for 10, All About Yoga.
Give the gift of the wellbeing hobby with class pass vouchers for yoga. It's a gift to last a lifetime.
The Blue Zones Secrets for Living Longer: Lessons From the Healthiest Places on Earth. £16.99.
From the popular Netflix series with longevity secrets from the areas of the world with the most centarians. Fascinating - and yet so simple.
NEOM Wellbeing Pod Mini Essential Oil Diffuser. £55, Plaisirs.
It's all about ambiance and the scent of a room can change everything. This is a mini version of the popular diffuser. Ideal for gifting.
The List x Ems Le Tocq Weekly Wellness Planner, £16. Ems Le Tocq.
Still popular, our weekly wellness planners remind you to get you sh*t done and put yourself on your To Do list.
One Line A Day - Five Year Memory Book. £14.99, Maison Demain.
A moment of daily gratitude is a huge gift for a tiny price.
Infrared Heat Lamp. £40, Beurer.
A huge wellness secret, starting to trend into the mainstream. Brilliant for home use for sore muscles and general wellbeing.
Flourite Hearts. Lucy Rose Jewellery.
Never be without a crystal - it's our new mantra. This is perfect for keeping with you on the go. Flourite is good for calmness and clarity.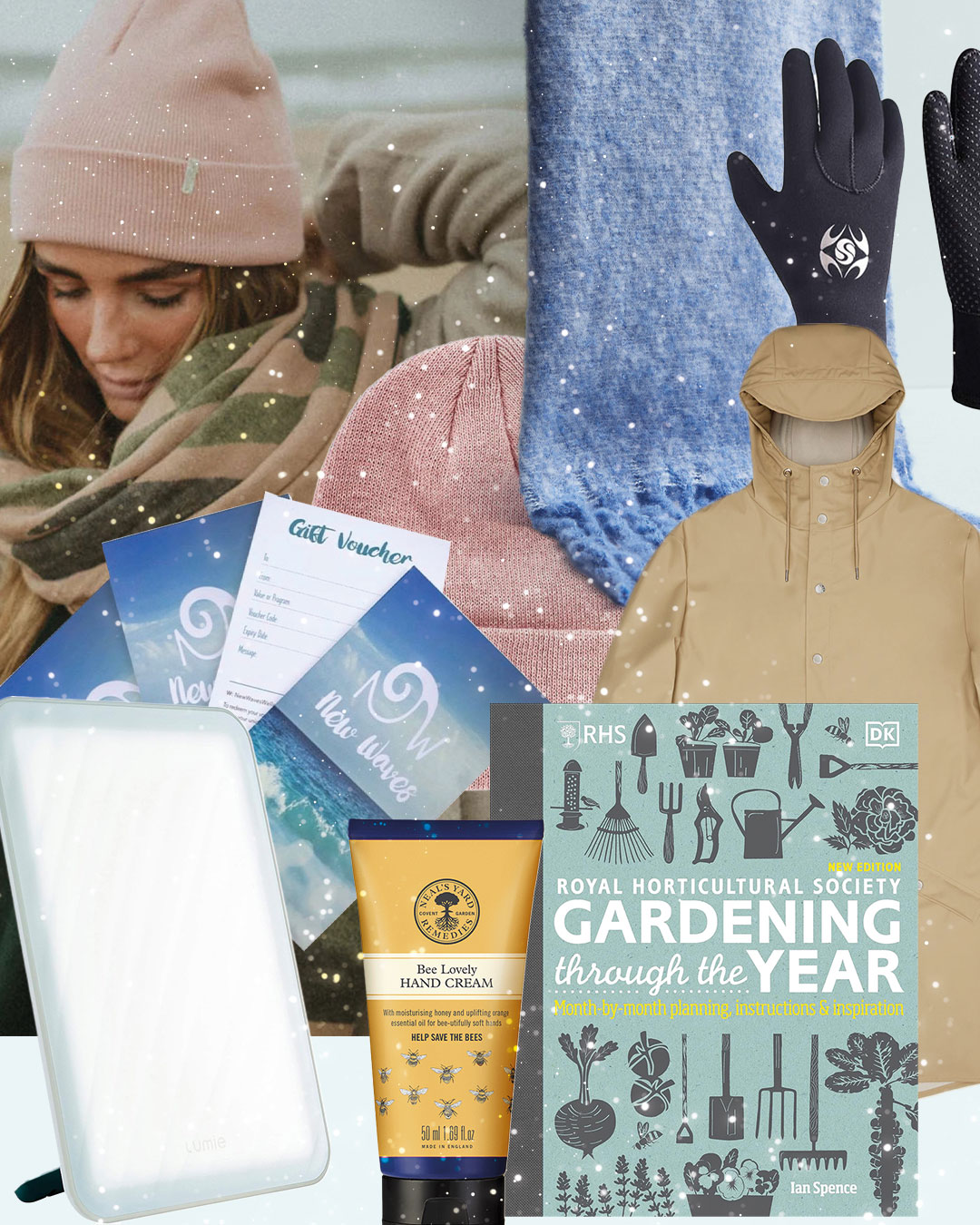 For the Nature Lover.
Grey Knit Beanie. £22, Maison Demain Home.
Any excuse to pop out when you get to wear this.
Vitamin L - Slim Light Box. £74.25, Lumie.
For those who spend all summer outside and then struggle with the lack of winter sun and natural light.
Brushed Tassel Scarf. £16.99, New Look.
Big and cosy - like a permanent hug.
Rains Coat. Land of Green Ginger.
This is a fantastic gift for anyone who gets regularly caught in the rain. We'd like one too please.
Thermal Travel Mug. £25.98, Contigo.
Keep tea/coffee/cacao warm on the go from cliff walks to post-swim beach strolls.
CLINIQUE Sheer Hydrator Moisturiser. £42, Sephora
With SPF for year round protection, a bit of extra hydration for the skin is a must in winter.
Personal Training vouchers. Prices vary. New Waves Wellness.
The perfect way to stay active outdoors is with a PT acting as an expert accountability partner.
Swim gloves. £16.99, SUPERFA
Pretty necessary at this time of year if your friend is a regular sea swimmer.
RHS Gardening Through The Year. £10.98
We love a classic guide that can help even the greenest of green fingers.
Neal's Yard Remedies Bee Lovely Hand Cream. £10.29, Sephora.
Such a treat. Ideal for those who spend a lot of time outside in the cold.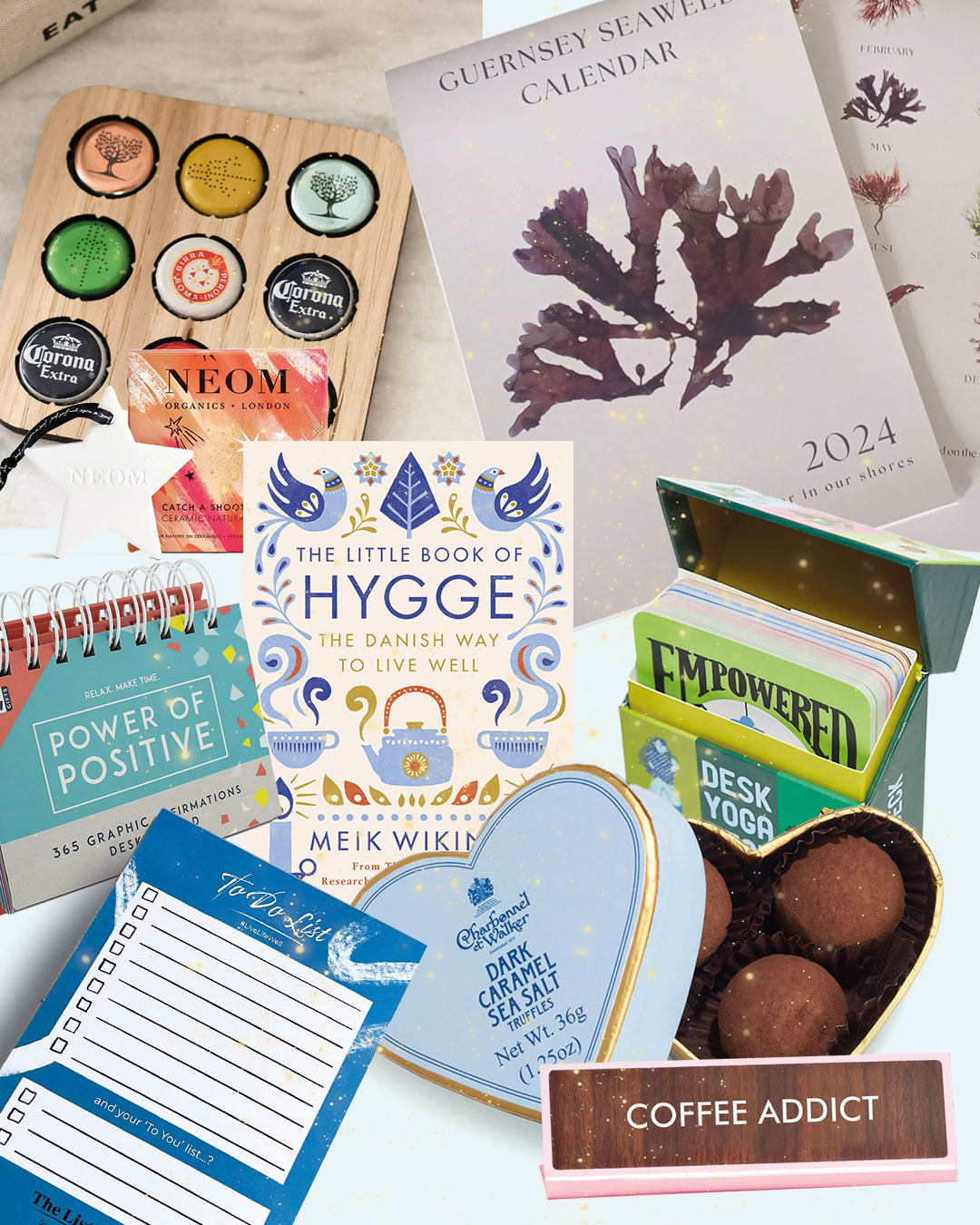 For The Office Secret Santa.
One Year in Our Shores Seaweed Calendar. £13, Lull.
The perfect present for the swimmer or nature lover in your life, this calendar was designed by founder, Imogen after collecting drift seaweed across our favourite beaches. Each month features a local seaweed from a different bay. Free Guernsey postage.
Charbonnel et Walker Mini Truffles. £6, Plaisirs.
A people pleaser for all occasions.
Little Book Of Hygge. £9.99, Maison Demain Home.
Give the gift of cosy evenings and embracing the season.
Power of Positive Desk Pad. £9.99, Ginger Fox.
We love a quick positive reminder right on the desk. Gift with genuine intentions!
To-You Note Pad. £6, Ems Le Tocq X The List.
Always a reminder to keep YOU on your to do list - for the selfless colleague.
Desk Yoga Deck. £16.05, Darrin Zeer & Subin Yang.
Great for a little pick me up for the whole office mid-day.
Beer Cap Collector Coaster. £3.98, Not On The High Street.
We love a touch of personality on a desk - for the office craft beer specialist.
Design Your Own Desk Plate Sign. £15, Not On The High Street.
Such a fun secret santa gift for those who love coffee - or get it personalised for something else.
NEOM Catch A Shooting Star Ceramic Natural Diffuser. £5, Sephora.
A little touch of festive wellness - perfect for the person who has it all.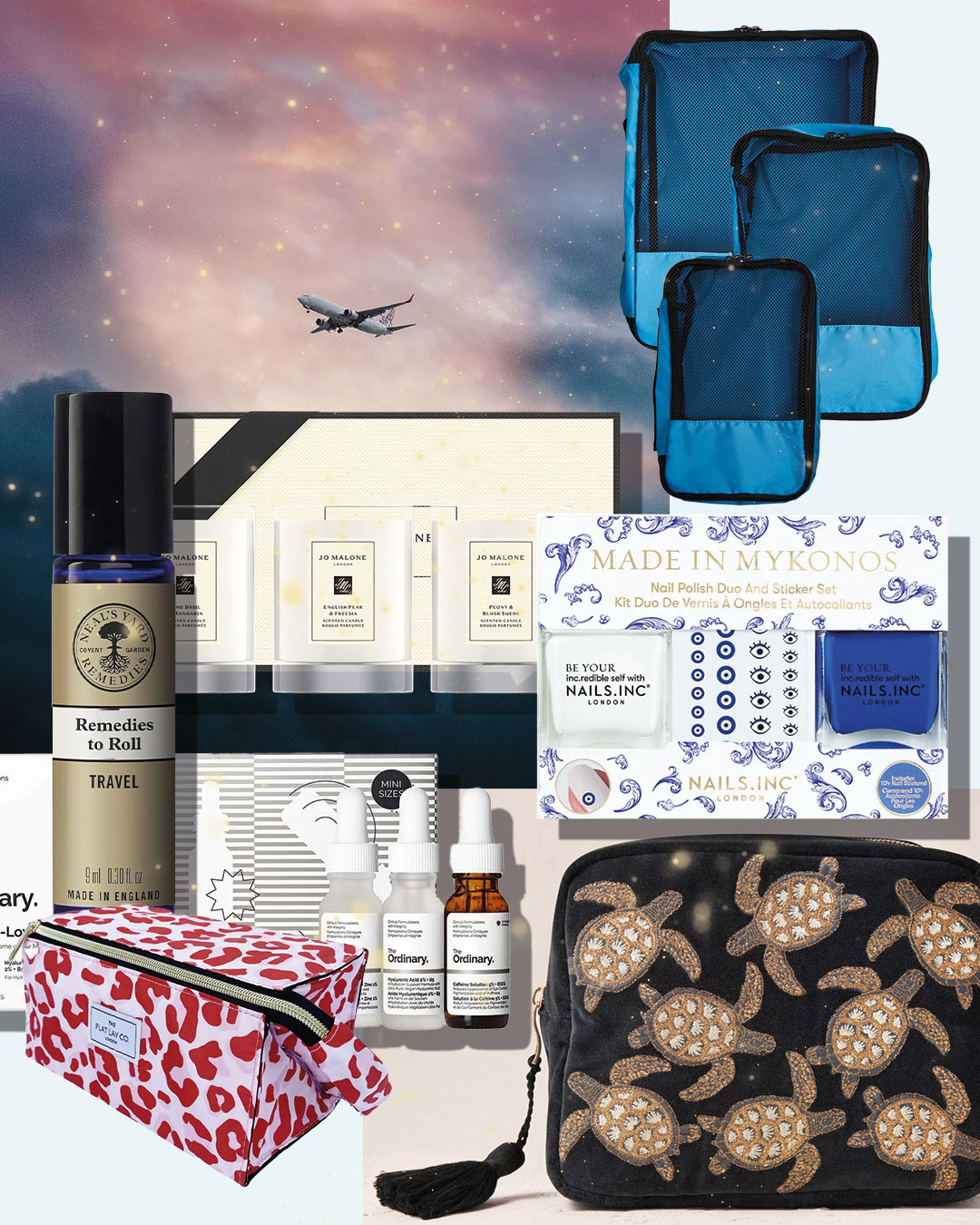 For The Year Round Jetsetter.
Turtle Conservation Velvet Washbag. £39, The Wanderlust Collection.
You've seen it all over your social feeds - and now you can get it right here in Guernsey. Buy for the whole friend group - including yourself. It's chic to match - and to support the turtles too (every sale protects an estimated 100 turtle hatchlings).
Jo Malone Travel Candle Trio. £84, Sephora.
It's the extra touches that remind you of home and the scent of mini travel candles can transport you home if someone travels a lot for work.
Bamford Weekender Set. £26, Plaisirs.
A weekend away is great, but a weekend away with Bamford is better.
The Ordinary - 'The Most Loved Set'. £11, Sephora.
The Ordinary has fantastic prices but this one is extra-Ordinary. Skincare that works at great gifting prices.
Roll On Aromatherapy. £10, Neals Yard Remedies.
Calm scents for nervous or overstimulated travellers.
Set of 3 Packing Bags. £15, Marks & Spencer.
Once you go packing cubes, you never go back. A lifechanging gift.
L'Occitane en Provence Travel Grooming Essentials. £22, Marks & Spencer.
Gift a touch of french luxury for friends on the go.
Nails.INC Made In Mykonos Duo. £11.20, Sephora.
A touch of holiday even when not travelling.
Pink Leopard Open Flat Make Up Box. £22.89, The Flat Lay Co.
Ideal for travel because it scoops up everything in one quick motion.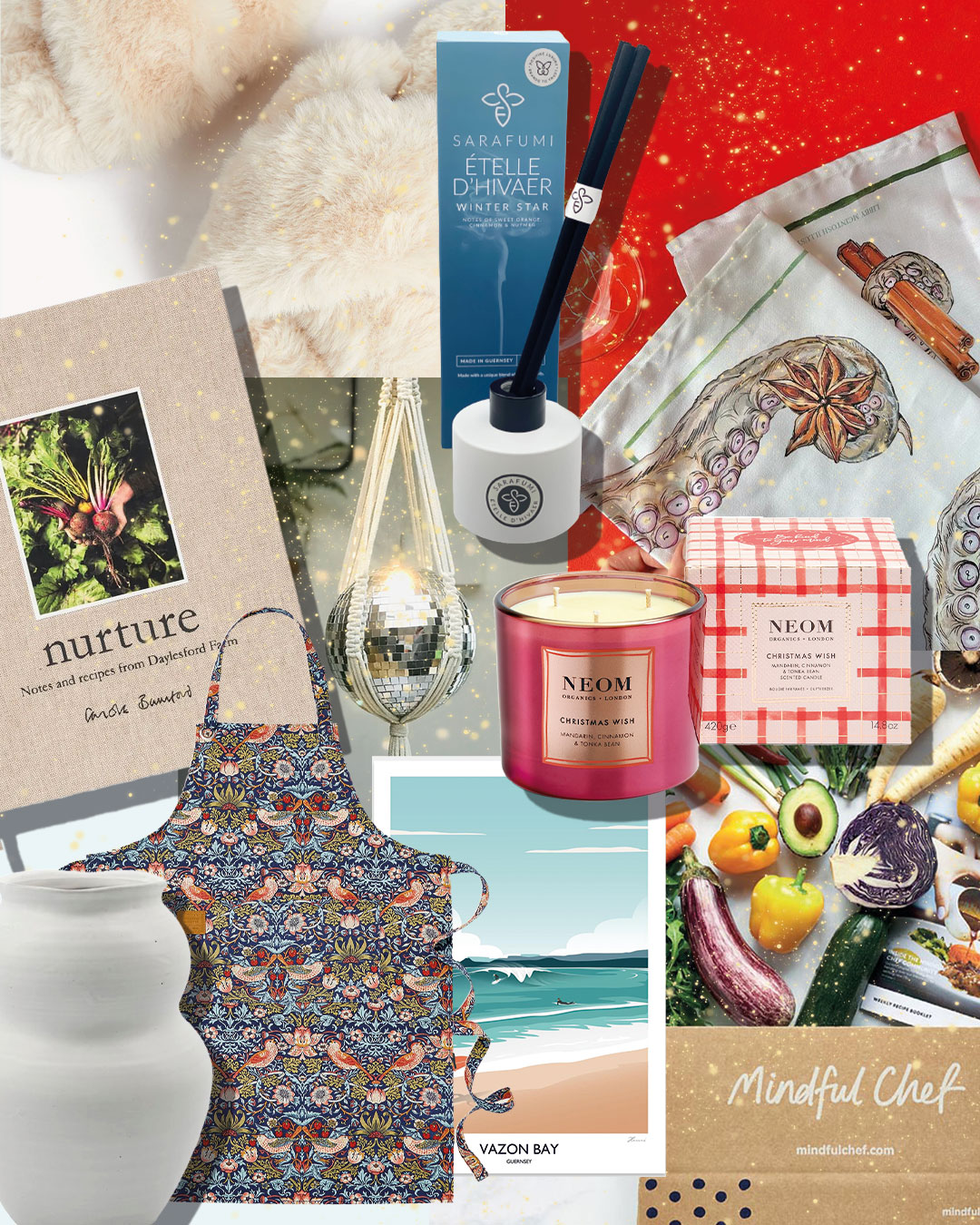 For The Homebody.
Ételle d'Hivaer Diffuser. £25.99, Sarafumi.
Made locally with a unique blend of essential oils with notes of sweet orange, cinnamon & nutmeg. The diffuser base oil is made from a vegan eco friendly renewable source and black fibre reeds which are vegan and cruelty free.
NEOM Christmas Wish Candle. £37, Sephora or Plaisirs.
You can't go wrong with a NEOM Christmas Wish.
Faux Fur Crossover Slider Slippers. £17.50, Marks & Spencer.
Stylish. Comfortable. You might want to get a pair for yourself as well.
Tea Towels, Libby Mcintosh Illustrations.
A touch of local art that is both fashionable and functional.
Bamford Nurture Notes & Recipes Book. £35, Plaisirs.
This will not only look amazing on the shelf, it will also teach all the Bamford ways.
Large Reactive Glazed Jug. £29.50, Marks & Spencer.
Perfect for displaying flowers or dried botanicals in a distinctive way.
Sunrise Wake Up Alarm. £36.99, Lumie.
Wake up to soft light instead of jarring alarm sounds.
Juno Vase. £35, Maison Demain Home.
Neutral, yet unique. We quite fancy one ourselves.
Gift Card. Mindful Chef.
The gift of convenience, health and great food. The whole family will love it.
Macrame Disco Ball. £35, StumpyLumpyKnots.
We love the juxtaposition of this sparkly disco ball with the handmade macrame casing.
Vazon Bay Print. £27, HB Studio Prints.
Perfect for a surfer or beach bum. Or just anyone who loves the West Coast.
Strawberry Thief Apron. £22, William Morris.
A classic print with a twist. Such a brilliant price. Your home-cook friends and family will love it.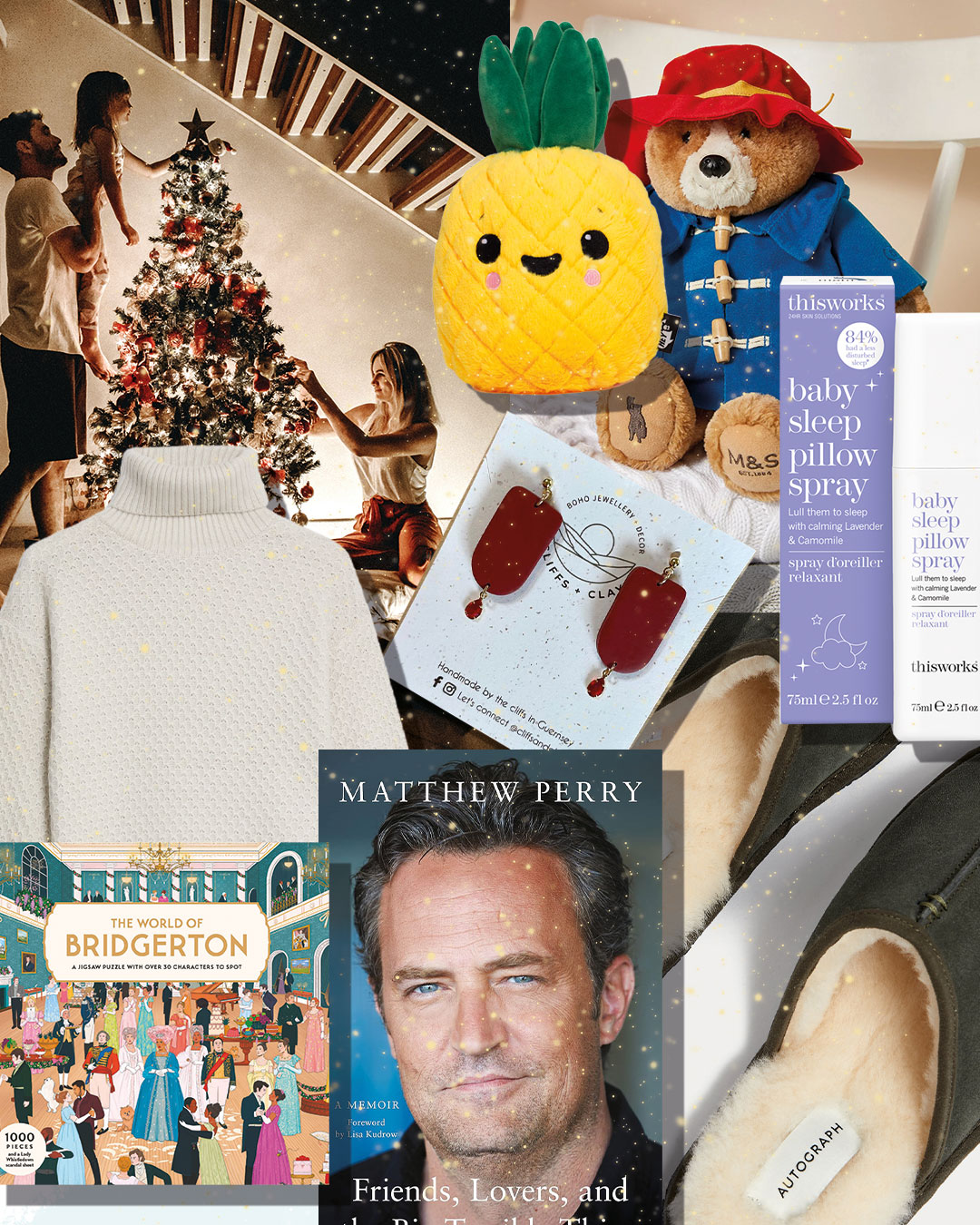 For The Whole Family.
Handmade Ruby Red Clay Earrings. Prices vary, Cliffs and Clay
Handmade clay jewellery here in Guernsey by local wellness coach Lou.
Bamford Collection Baby Gift Set. £75, Plaisirs.
This cute set includes Baby Powder, Baby Soap, Baby Balm, Baby Hair and Body wash and a small toy made from 100% organic Sheep's wool.
Paddington Bear. £15, Marks & Spencer.
A classic toy for all ages.
Pineapple Dancing Fruit Plush Toy. £22.99, Hey Bear Sensory.
If you know, you know. For the Dancing Fruit fans in the family.
This Works Baby Sleep Pillow Spray. £19, Plaisirs.
Anything to get some good sleep right? For parents who love a natural solution for sleep.
Suede Mule Slippers. £40, Marks & Spencer.
You can't go wrong with classic, comfortable slippers for Christmas.
World of Bridgerton Jigsaw Puzzle. £18.99, Maison Demain Home.
For the fans in the family. But also - a perfect screen-free way to pass a few hours over the festive season.
Matthew Perry: Friends, Lovers and the Big Terrible Thing. £12.50.
It has hit the bestseller charts for devastating reasons, but it contains a legacy he wanted all to know him by.
Textured Roll Neck Jumper. £29.50, Marks & Spencer.
This season is all about the cosy jumpers and this is the perfect addition to any wardrobe.