5 Interior Design Tips from Restoring Sark House
with Guest Contributor Jacqueline Pendleton
Local art teacher, potter and interior designer Jacqueline Pendleton moved into her Georgian house at the end of 2019 and in doing so took on the renovation project of her life, which she documents over on Instagram at Restoring Sark House.
Jacqui has spent her downtime during the pandemic lovingly restoring her home to its former glory alongside her partner Trevor Jones of Nutex Ceilings and Walls. It must be handy having a partner in the building trade (he even offers a full decorating service) who, thankfully, shares her enthusiasm for restoration and upcycling.
To inspire you to give your home a new lease of life, Jacqui has shared some of her top design tips that are both stylish and eco-friendly with us, plus she has some insider information on where to find inspiration and show pieces locally, that you can stamp your own creative mark on. Read on for the list!

1. Plan Your Palette
Before you launch into decorating the first room, take a moment to plan the full palette. Sometimes people find a colour they love, but are not sure what other paint options will sit next to it in harmony. For Jacqui, it's about matching tones, not just colours. She urges you to take inspiration from the world you live in and the things that inspire you. For example, the coastal vibes and granite hues are all around us here in Guernsey and they feature heavily throughout Jacqui's home.
2. Embrace Upcycling
Sustainability and living an eco-friendly lifestyle are high on Jacqui's list of priorities, and that ethos has served her well when sourcing furniture for her home. She is a big fan of upcycling, and often looks to Space, a local firm who specialise in environmentally-sound house and garden clearances. They found the porthole for her "Platform 9 ¾" back door and an amazing fireback for the fireplace she uncovered in her lounge. Weighing over 60kg, she was thrilled that they delivered it for her.
Jacqui has also found vintage pieces in GO, the local charity shop Giving Opportunities to Guernsey's young people through the money they raise. This fabulous outside mirror below has been lovingly restored and painted to give it a new lease of life. It has been transformed from an old fashioned brown cast off into a showpiece that adds a pop of colour to brighten up the staircase. This kind of project features in Homes and Gardens interior design trends for 2021, as a way to create the feel of timeworn opulence from scratch, by mixing new buys with vintage market finds for that lived-in feel.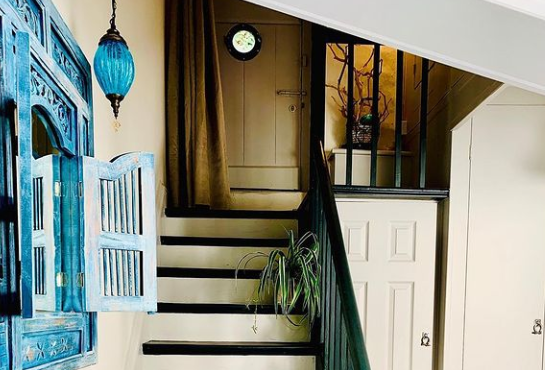 3. Embrace Wombling To Find Hidden Treasures
You never quite know where or when inspiration will strike. And what better way to help the environment than combining interior design with a spot of wombling! Jacqui made interlined roman blinds out of discarded dinghy sales (impressive!). She also repurposes driftwood that she finds on the beach when she's out walking her dog, Dougal, and she found the old oar below in a marina bin. We think they look great in their new inner courtyard home. It seems that one man's junk truly is another (wo)man's treasure!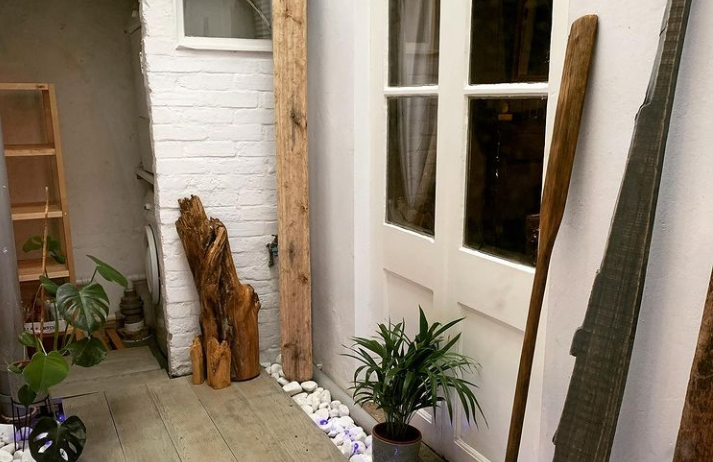 4. Remember That First Impressions Count
It's all about making an entrance. If your front door is looking tired and worn, repaint it. This will give your home an instant lift, and make it feel more welcoming. Little touches, like restoring or replacing the letterbox can make a big difference. If you're feeling creative, Jacqui likes to personalise the entrance with some stencilling. Alternatively, placing shrubs or flowers by your front door to create a warm, welcoming vibe, perfect for inviting friends and family back into our homes.
5. Focus on the Extras
If you want to take it to the next level, why not look for ways to extend your creativity by making your own products? Making your own laundry soap, softener and stain remover isn't for everyone, but Jacqui tells us they smell fab she feels good knowing she's not polluting our ecosystem. Tempted? It's all in a favourite book of hers: @simply.living.well.
Follow Jacqui @restoring_sark_house for more inspirational home decor ideas. As a kind offer for The List readers, you can send her a picture of your room and she'll be happy to suggest some colours that would work well together. Also, if you're looking for help with your renovation work or the painting and decorating, get in touch with Trevor at Nutex Ceilings and Walls