Out and About in the Bailiwick
In partnership with the Guille-Allés Library
Check out these six local guidebooks to help you make the most your free time outdoors across the Bailiwick. Covering everything from beaches and coastal walks to wildlife and history... with a special insight into life on Sark when the tourists go home!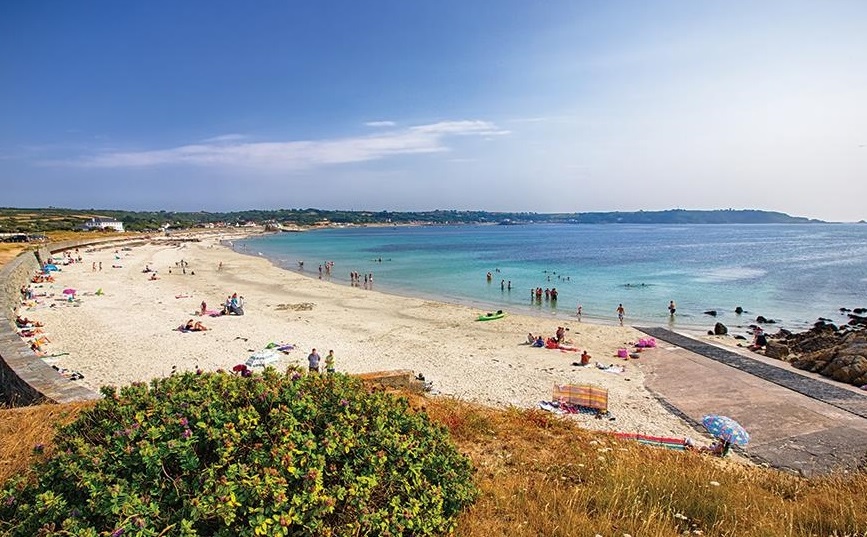 Image from 'Guernsey Beach Guide'
1. 'Coastal Walks & Nature Trails in Guernsey' by Perry's Guides
If you're looking to stretch your legs this summer, what better place to start than your own back garden? Featuring sixteen popular walks that have been selected for people of differing abilities, there should be something for everyone in this detailed guide. Why not discover a part of Guernsey you've never explored before?
Jamie says: This handy guide lets you know at a glance how difficult a walk will be, which facilities are available nearby and gives you information about the highlights and history of the area. Great for locals and visitors alike!
Reserve 'Coastal Walks & Nature Trails in Guernsey'
2. 'Guernsey Beach Guide' by Adam Bayfield, Tony Curr and Gordon McRae
A comprehensive guide to twenty-nine glorious beaches. The best views, the best kiosks, the best places to swim. The right times to go to each beach. All you need to know to make the most of Guernsey's beautiful coastline!
Jamie says: If you're anything like me, you'll end up at the same beach every summer. Now there's no excuse to change the routine and seek out a hidden gem!
Reserve 'Guernsey Beach Guide'
3. 'Wildlife of the Channel Islands' by Sue Daly
With all its lush, natural spaces, Guernsey is home to more than just the people who populate its urban areas. Discover more about our feathered, four-legged or amphibious neighbours with this useful guide. There are so many creatures to discover!
Jamie says: Another for the wanderers, this useful guide to local wildlife transforms any walk into a sightseeing expedition. How many of these creatures can you spot?
Reserve 'Wildlife of the Channel Islands'
4. 'Secret Guernsey' by Amanda Bennett
Take a journey through this familiar landscape to find what lies beneath – stories of the unusual, the intriguing or the plain odd. From serial duellists to romantic poets; confusing road names to land reclamation; mysterious stones to pagan offerings, 'Secret Guernsey' is filled with unexpected tales of island life and history, and invites you to explore the island for yourself and uncover more unfound treasures through stunning colour photographs.
Jamie says: 'Secret Guernsey' is two parts history to one part wacky tour guide. There's sure to be something to surprise even the most savvy of locals.
5. 'The Extraordinary House of Victor Hugo in Guernsey' by Diana Aimée and Marcel Forestier
We often overlook the sights on our own doorstep and Hauteville House is a fascinating piece of local history. When Victor Hugo – author of Les Miserables, Toilers of the Sea and The Hunchback of Notre Dame – found himself exiled in Guernsey, he created a sanctuary in the heart of St. Peter Port.
Full of his own unique style and character, the house is an excellent tour destination for anyone interested in local history or in the author himself, and this book is the best kind of companion!
Jamie says: This may be more 'out and about' than outdoors, but this unique book gives insight into the fascinating mind and style of Victor Hugo and would make for a great tour companion!
Reserve 'The Extraordinary House of Victor Hugo in Guernsey'
6. 'Life on Sark' by Jennifer Cochrane
What is it really like to live in a small island community? Most holidaymakers to Sark are day-visitors during the summer season – the impression they gain is very different to the reality of the winter months and the rest of the year.
Jennifer Cochrane has lived on the island for many years. 'Life on Sark' guides us through the annual cycle of activity as it is lived by the Sarkees themselves.
Jamie says: Day trips are on the rise in our Bailiwick bubble, but what happens when the day trippers go home? This month-by-month retrospective sheds light on what Sark is really like when the tourists have gone.