10 Supplements To Support Your Health This Season
*This article contains affiliate links
As we embrace the new season, our lifestyle inevitably changes. We can enjoy cosy nights in, brisk walks on the beach and warming dinner recipes. But the change in season can bring challenges for our wellbeing. We tend to spend less time outdoors, we may exercise less often, feel more tired and reach for quick fix snacks. All of this can impact on our general health, and whilst we know that we should prioritise a nourishing diet and healthy lifestyle, sometimes we need a helping hand.
So, we asked Healthspan to recommend a selection of vitamins and supplements that will help you to boost your immune system and prioritise your wellbeing over the coming months.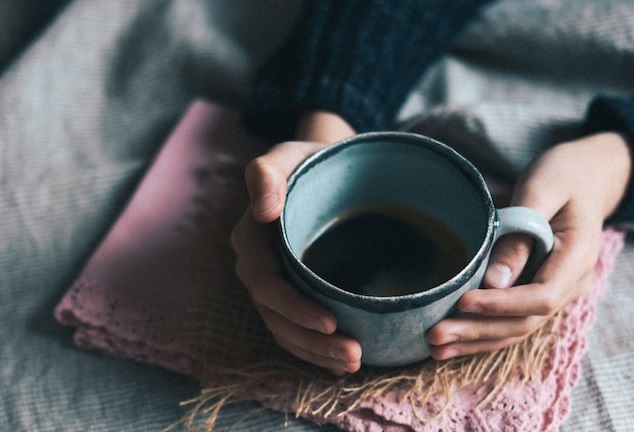 1. Vitamin D
We need Vitamin D, often referred to as the sunshine vitamin, to help our bones to absorb calcium and to boost our immune system. It is created naturally in our bodies from exposure to the sun. In Guernsey, there is enough sunlight between April and September to produce adequate amounts of vitamin D for most of us, however in autumn and winter we need to look at other sources to maintain our levels.
2. Vitamin C
The change in season can affect our bodies in many ways. With shorter days and colder weather we sometimes feel tired, our skin feels drier and we can be more susceptible to coughs and colds. Vitamin C is the go-to vitamin as winter approaches. It can help to reduce fatigue and help our immune system to function normally.
3. Multivitamins
Prefer a multivitamin to make sure you've got all areas covered? One size doesn't necessarily fit all, but Healthspan's Medical Director can give you the lowdown on what to look for in a multivitamin, taking your age, gender and eating habits into the equation.
4. Probiotics
Good gut health is crucial for keeping your digestive system healthy all year round. Experts are now also proving that the brain affects our gut health and the gut, in turn, affects our mental health. Our 'gut feelings', such as butterflies in our stomach, are now acknowledged to be part of this complex communication network between the brain and our 'second brain', the gut. If your gut health is out of sync, maybe you should consider a daily probiotic supplement.
5. Immunity Boost
If you're looking for something that combines key vitamins, minerals with probiotics, Love Your Immunity brings them all to you in convenient daily tear strips. Containing live pro cultures alongside vitamin D3 and proven immune health ingredients zinc and vitamins B12 and C, you don't have to spend precious time trying to figure out which supplements to combine for optimum immune system support. Healthspan has done the heavy lifting for you.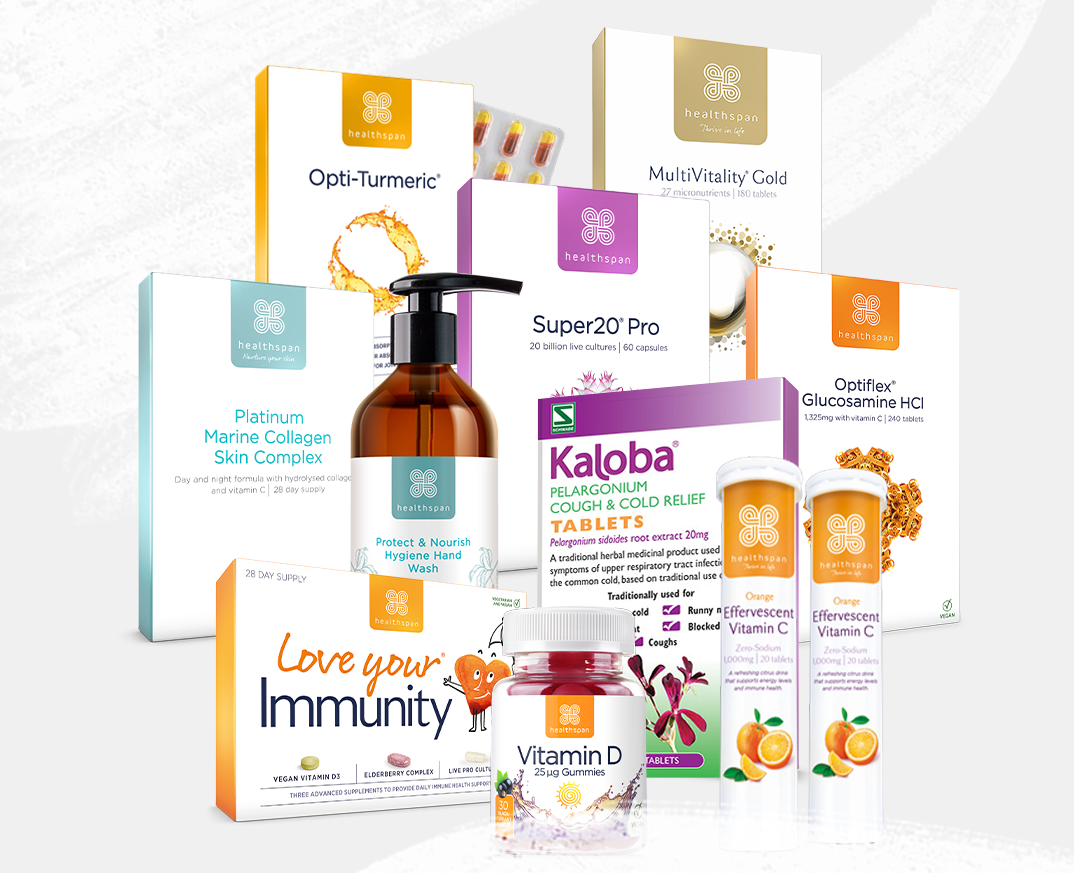 6. Cough and Cold Relief
Hopefully you won't catch a cold, but if you do Kaloba® Pelargonium Cough And Cold Relief might come in handy to help relieve symptoms such as a sore throat, a cough and a blocked or runny nose.
7. Turmeric
Often referred to as 'the golden spice of India', turmeric is known for its anti-inflammatory properties. So if you suffer from achy joints and feel stiff at times - and let's face it, the cold weather is not your friend on this one - you might want to try some fast acting Opti-Turmeric Capsules.
8. Glucosamine
Here's another suggestion if joint pain is something you know will affect you as we head into winter: try Optiflex® Glucosamine with Vitamin C. It contains the maximum allowable strength of glucosamine, as recommended by experts, and combines it with Vitamin C. Of course, you should also always try to find out why you have joint pain as taking preventative measures can protect you from the pain getting worse in the long term.
9. Marine Collagen
Anyone for healthier, more radiant-looking skin? Marine Collagen is a premium beauty supplement that works from within to support your skin, with collagen and vitamin C, helping your skin to better cope with the harsh winter elements. There's selenium and zinc in there too for healthy hair.
10. Hygiene Hand Wash
And finally, we're all very much aware these days of the increased importance of washing our hands frequently. Protect & Nourish Hygiene Hand Wash gently cleanses your hands and also moisturises and hydrates your skin with essential oils of bergamot, lemon and lime, leaving them feeling soft… and smelling great.
'Nothing beats a healthy, balanced diet to provide all the nutrients we need. But when this isn't possible, supplements can help. This article isn't intended to replace medical advice. Please consult your healthcare professional before trying supplements or herbal medicines.' - Healthspan
*This article contains affiliate links