How To Keep Your Skin Glowing All Year Round
In partnership with The Body Shop
We always want our skin to maintain a natural-looking glow, but busy lifestyles and everyday stress can lead to dull, uneven and tired-looking skin. So, together with The Body Shop, we're sharing some tips to help you to look after your skin, keep it hydrated and reveal glowing skin.
We're also introducing you to some radiance revealing skincare heroes to help you feel confident and keep your healthy glow throughout the months ahead.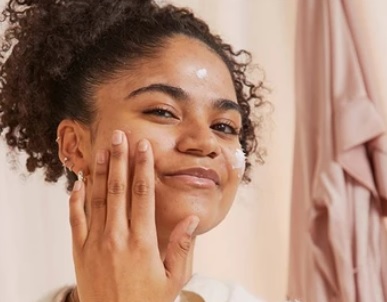 *contains affiliate links
1. Use a moisturiser with SPF
Use a SPF moisturiser every single day. This keeps your skin hydrated and also reduces exposure to harmful UVA and UVB rays, which are present even if its cloudy.
2. Stay hydrated
Our bodies are 60% water so it's important to avoid dehydration, which can make skin look dull and feel tight. The obvious way is to drink enough water, but eating foods with a high water content also helps, as does limiting your alcohol intake.
3. Don't forget your lips
Your lips are just as vulnerable to the damaging effects of UVA and UVB rays as the rest of your body, so it's important to protect them. The Body Shop's Skin Defence Lip Balm SPF50+ is enriched with cocunut, rosehip and peppermint oils and has a cooling, fresh feeling.
4. Take a cool shower
What's better than a cool shower after spending time in the outdoor heat? It helps to tighten the pores and refresh your skin without stripping away its natural oils. Elevate the feeling with Almond Milk Shower Cream.
5. Refresh with a face mist
Refreshing your face with a hydration mist is another great way to give summer skin regular hits of quick hydration during the hot weather. It's so refreshing when the temperature ramps up and it can also help to keep your make-up set throughout the day.
6. Go lightweight
Try a moisturiser with a lighter texture during the summer months. Body Yogurts are fast-absorbing with a lightweight, gel-cream texture that gives your skin instant 48hr moisture.
7. Enhance your natural glow
Bronzing is an easy way to warn up your complexion if you don't tan very easily, or if you want to achieve a sun-kissed glow without exposing your skin to the harmful rays of the sun.
8. Soothe your skin
Too much time on the beach can leave your skin feeling red and irritated. Aloe Vera is known for its anti-inflammatory properties and is often used to help soothe sunburn. Aloe Multi-Use Soothing Gel helps refresh and soothe dry, sensitive skin, and can be combined with Aloe Soothing Night Cream to restore moisture and calm your skin overnight.
*contains affiliate links