6 Quick and Healthy Breakfasts To Get Your Day Off To A Great Start
If your mornings run away from you, but you still want to start your day with a nutritious and balanced breakfast, try these quick and easy breakfast suggestions.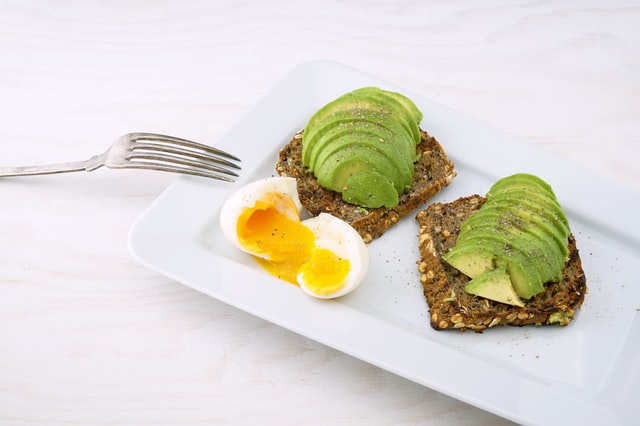 1. Overnight Oats
A recipe from Joe Wicks, The Body Coach, who is on a mission to make the world a fitter, healthier and happier place. Seems like a good place to start, right? His Very Berry Overnight Oats are quick and easy to make… and best of all, you can make them the night before so all you have to do in the morning is eat them. Winner.
You just need a handful of ingredients and you can switch up the berries or use frozen mixed berries if that makes life easier. You can even store these overnight oats in a jar or blender cup, so all you have to do is throw on some extra toppings in the morning and you can take them with you as you head out the door.
2. Berry Smoothie
This energising berry smoothie from Deliciously Ella is the perfect start to a busy day. It's a vegan friendly breakfast that's super easy to make - just throw all of the ingredients into a blender and you're good to go! It's packed full of frozen berries of your choice, with a real kick coming from the ginger as well as creaminess from the banana.
Plus, quick tip: Keep it thick and add some seeds and berries on top for a smoothie bowl, or add more almond milk for a thinner consistency you can drink.
3. Porridge with Blueberry Compote
This BBC Good Food recipe is high in fibre with oats to set you up for the day by making you feel fuller for longer. It only takes five minutes to make, maybe even less if you prepare the blueberry compote the night before.
Just cook up the porridge in a nonstick pan for a couple of minutes, then remove from the heat and stir in some Greek yogurt. Top it all off with some yoghurt, compote and honey - enjoy!
4. Avocado Toast
Wholegrain bread toasted and covered with creamy avocado is one of life's simple pleasures and it's a great way to start the day. It's easy, quick and nutritious, great with your morning cup of tea or coffee. The key is to use quality bread and time it right so that the avocados are ripe, but not over-ripe. Not keen on simple toast? Switch to a rye or sourdough instead.
You can keep it simple, or you can add a whole range of toppings to your avocado toast. Two of our favourite toppings are sliced tomatoes with a sprinkling of seeds or a poached egg with some smoked salmon.
5. Breakfast Muffins
There are lots of recipes out there for breakfast muffins, packed full of fibre, whole grains and healthful ingredients that won't spike your blood sugars. This recipe for Banana and Dried Fruit Muffins will provide you with loads of slow release energy to see you through the morning, or try some Spinach and Prosciutto Muffins for a savoury fix.
These recipes are not the fasted breakfast option if you're making them fresh, but here's the thing… you can make a batch of your favourites at the weekend and freeze them. Defrost them overnight or reheat them while you're getting ready in the morning and you're good to go!
6. Classic Cereal
So long as you steer clear of the highly processed cereals with added sugars, this traditional option can actually be a healthy, quick and easy breakfast option. The British Heart Foundation has ranked the most popular cereals from best to worst based on their nutritional value, in particular looking at fibre content and added sugar and salt.
And this doesn't have to be the boring option. Top your cereal with yoghurt, berries, honey, seeds, nuts, shredded coconut… The list of potential toppings goes on and on. Choose something you enjoy and liven up your cereal, and get your day off to a heart-healthy start.
Of course you can always treat yourself and let someone else make you breakfast with our list of the Best Brunch Spots in Guernsey.