Netflix Book Club
Yes, that's right, Netflix has a Book Club. And as you'd expect from Netflix, the focus is on entertainment. How does it work? There's a monthly title and you are invited to read the book, watch the adaptation - or both - then join Book Club host, Orange is the New Black's Uzo Aduba when she sits down for candid conversations with the stars and storytellers behind the scenes. Together they delve into the characters, the themes and give insights into how the story was transformed from the pages of a book into a big budget TV show. They ask the questions we all want to ask when we hear that our favourite book is being made into a TV show or a movie: Will it stay true to the original ending? Who will play the main roles? Will new characters be added?
And here's the thing - there are no rules with this book club. There's no homework, no set reading amount, no silly questions and no wrong answers. It doesn't matter whether you've finished the book or not, or even if you're planning to watch first and then read the book. It's entirely up to you. Sometimes you may not even realise that the book came first!
With a new topic every month, here's a round up of our favourites.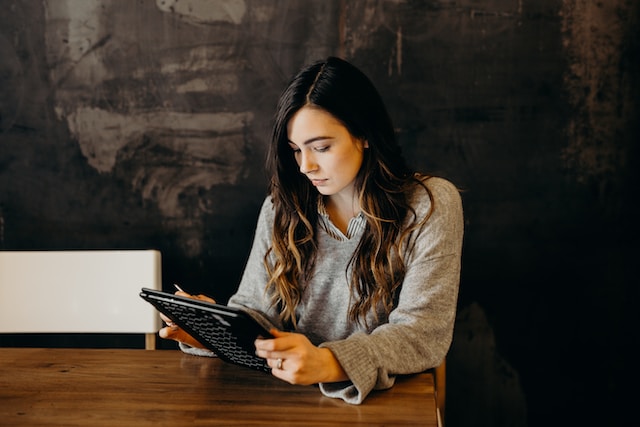 Virgin River is my Netflix guilty pleasure, the series I turn to for some escapism on a rainy day. I didn't realise the series was based on a book - it's now at the top of my reading list! - Tracey
1. Virgin River
Recently widowed Melinda Monroe, a nurse practitioner, moves on a whim to the small mountain town of Virgin River, population six hundred, to escape her heartache. But her hopes are dashed within an hour of arriving: the cabin is a dump and the local doctor wants nothing to do with her. Realising she's made a mistake, Mel decides to leave town the following morning. But a tiny baby, abandoned on a front porch, changes her plans… and a former marine cements them into place in this heartwarming romance story, which now spans four seasons on Netflix.
2. Orange Is The New Black
With her career, live-in boyfriend and loving family, Piper Kerman barely resembles the rebellious young woman who got mixed up with drug runners and delivered a suitcase of drug money to Europe over a decade ago. But her reckless past catches up with her and she is sentenced to fifteen months at an infamous women's prison in Connecticut. Now an original comedy-drama series on Netflix, Piper's story is a fascinating, heartbreaking and often hilarious insight into life on the inside.
3. Firefly Lane
Firefly Lane is an unforgettable coming of age story about friendship and betrayal. When Tully Hart moves in across the street from Kate Mularkey, the teenagers form an unlikely friendship and for thirty years they support each other through life's ups and down. They think they've survived it all until a single act of betrayal tears them apart. But when tragedy strikes, can the bonds of friendship survive? Or is it the one hurdle that even a lifelong friendship cannot overcome?
4. The Brass Verdict: A Lincoln Lawyer Novel
This is the second book in The Lincoln Lawyer series by Michael Connelly. Down-at-heel lawyer Mickey Haller runs his law practice from the back of his luxury Lincoln car in his hometown of LA. When he unexpectedly inherits client cases from an old colleague who has been murdered, a trial which initially promises to bring in big fees and media glory turns ugly when the detective handling the case - Harry Bosch, another favourite Michael Connelly character - is convinced the killer must be one of Vincent's clients.
5. Nappily Ever After
What happens when you toss tradition out the window and really start living for yourself? Venus Johnston finds out when she ditches her long term boyfriend Clint in a bold declaration of independence. Reactions from friends and coworkers range from concern to contempt to outright condemnation. And when Clint moves on with a new lover, Venus is forced to question what she really wants out of life. With wit, resilience, and a lot of determination, she finally learns what true happiness is, on her own terms.
6. The Queen's Gambit
When she is sent to an orphanage at the age of eight, Beth Harmon soon discovers two ways to escape her surroundings, albeit fleetingly: playing chess and taking the little green pills given to her and the other children to keep them subdued. Before long, it becomes apparent that hers is a prodigious talent, and as she progresses to the top of the US chess rankings she is able to forge a new life for herself. But she can never quite overcome her urge to self-destruct. For Beth, there's more at stake than merely winning and losing.
7. Sweet Magnolias
Sweet Magnolias centres around three best friends born and raised in Serenity, a small town in South Carolina where everybody knows everybody and everybody knows everybody's business. The lifelong friends lift each other up as they juggle their relationships, family and careers and emotions run high when old wounds are reopened.
8. The Bridgerton Collection
Many of us have seen the Netflix series inspired by this collection of books. Escape to the ballrooms of Regency London with this witty and glamorous series, where the Bridgerton family reign supreme watched over - and gossiped about - by a mysterious society columnist known only as Lady Whistledown.
9. Maid
Now a Netflix series starring Margaret Qualley and Andy Macdowell, the book is Stephanie Land's memoir about life as a struggling single mum, working as a maid to keep a roof over her daughter's head. It tells the story of what it takes to survive and thrive in today's inequitable society. Her story gives a voice to those who have to fight daily to scrape by for their own lives and the lives of their children.
*this article contains affiliate links