5 Books to Transport You to Another World
Written by Guest Contributor Chloe Presland.
For many of us, Christmas will be a little unusual compared to previous years. With relatives unable to visit, festive holidays cancelled and trips away to see family rendered almost impossible, it's easy for us to feel a little bit trapped in our surroundings. Fortunately, in the meantime, we have books to help us to travel to new places.
"That's the thing about books. They let you travel without moving your feet."
Jhumpa Lahiri, author of 'Interpreter of Maladies''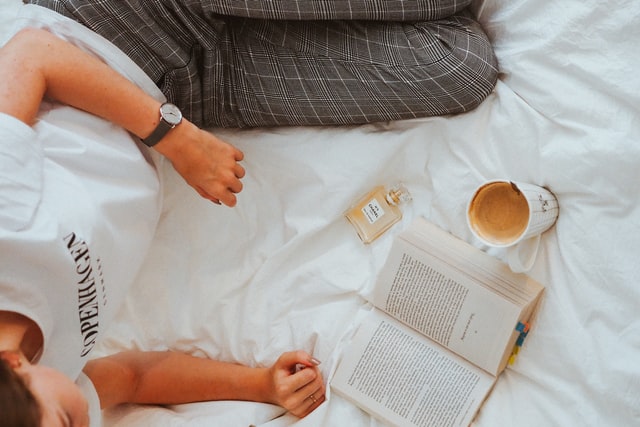 In this list of books for The List Guernsey, I have chosen five books that focus heavily on setting and scenery to communicate a story. I've attempted to include as many genres as I can out of the books I have read - we all have different tastes! Some, admittedly, are a lot more comforting and happier than others, but you should find something to suit your reading tastes in this list.
Whatever the case, it's inevitable that many of us will be missing someone this festive period or wishing we were somewhere else in the world, so in the meantime, why not curl up with a book and a cup of something hot and live life well.
Here's the list of books to travel safely from the comfort of your own home:
1. 'Rebecca' by Daphne Du Maurier
(Gothic Fiction/Mystery)
I couldn't compile this list without mentioning Du Maurier's most beautifully crafted novel. Penned in 1938, Rebecca is widely recognised as a modern classic. The book begins with an extensive description of Manderley, the home Maxim De Winter shared with his recently deceased wife, Rebecca. I was lucky enough to study this in sixth form, which made me appreciate the genius of the story all the more. Du Maurier has managed to present the location of Manderley as an entity in itself, one that as a reader, you can connect to as if it were human. If any story can make you feel completely absent from your present surroundings, it's this one. Oh - it also has a really cool twist, but… no spoilers!
2. 'I Capture the Castle' by Dodie Smith
(Romance/Coming of Age)
Set in rural England in the 1930s, Cassandra Mortmain resides in a crumbling castle with her impoverished family. I consider this to be one of my all-time favourites, mainly because of the intricate descriptions of her dilapidated home. Overarchingly, as well as having romance and coming-of-age themes, this is a story about feeling isolated and alone (hmm - remind you of quarantine, at all?). That said, it is not a tragic or upsetting book. Instead, you will find yourself feeling the same comfort that Cassandra eventually finds in her own company.
Someone on Goodreads described this novel as "what would happen if an early-twentieth-century Jane Austen were to grow up in a dilapidated castle and get into financial trouble." If that doesn't sell it to you, nothing will.
3. '11/22/63' by Stephen King
(Historical Fiction/Time Travel)
Just as I couldn't miss 'Rebecca' from this list, I also can't resist having a Stephen King book on here. The beauty of this story is that it not only transports you into Maine in the summer, it also diverts you to and from the present day back to 1963. Ideal, if you need a break from the shambolic nature of 2020. (Editor's note - pahaha, yes please!)
Jake Epping, a thirty-five year old English teacher, discovers that his friend has a storage cupboard that acts as a portal back to 1958. He presents Jake with the task of preventing the assassination of JFK, and so begins Jake's new life as George Amberson in a whole new era. It's not often I come across a time travel book that doesn't seem massively far-fetched, but this one succeeded. At 849 pages, some may feel a bit daunted, but in addition to the unbelievably skilled and creative penmanship, the size of this book makes it possible for you to truly zone out of your world and into another. Ideal right now.
4. 'The Martian' by Andy Weir
(Science Fiction/Adventure)
Most of us have seen the film, but few will have read the book (spoiler: the book is better, as it almost always is). If you're looking for a book which will make you feel as far away from home as possible this Christmas, you can't get much further than Mars. Andy Weir is a self-proclaimed space fanatic and began working for the national laboratory at the young age of 15. The story is written in the voice of a real-life astronaut, which means that there is a lot of maths, physics and botanical talk throughout, but rest assured - for someone who has very little interest in any of those topics, this is still one of my all-time favourite reads.
Mark Watney ends up stranded alone on Mars after an extraction gone wrong. He has to learn to fend for himself with the minimal supplies he has. To add fuel to the fire, his peers at home think he died in the accident, and so initially no-one is attempting to help him. Considering that the surroundings of Mark are, put simply, a barren and sandy expanse of craters, Weir's ability to find new and original ways of chronicling Watney's Mars home is paramount to any other science fiction novel I have read. The bonus of this book is that once you're finished, you can sit down and watch the whole blockbuster film too. Another way to fill your time over the holidays.

5. 'Lights on the Sea' by Miquel Reina
(Magical realism)
This is most likely the least well-known book on this list - and also the strangest. Mary-Rose and Harold Gropes live in a house that is just inches from the edge of a cliff. Unlike most who would have moved from their dangerous abode, the loss of Mary and Harold's son thirty-five years prior and the memories they shared with him in their home means they have never been interested in leaving. But then, on one violently stormy night, their home is torn from the cliff and begins a journey away from their tragic past and towards a new outlook and engagement with life.
In honesty, it's quite difficult to summarise this story because it is such a unique one. The reason I have included this is that the entire book is seemingly a metaphor of moving forward and experiencing new things when such a step seems impossible. It's a great New Year read. The two characters eventually find themselves seeking refuge with a family living on the side of a mountain, who offer them examples of their own experiences, which in turn gives Mary-Rose and Harold the courage to forgive themselves and begin life again. I know it sounds a little sad, but Miquel Reina uses the house, the vast expanse of sea and the mountainside to illustrate each stage of the main characters' emotions throughout their grief journey, which I think made this a brilliant read. Enjoy it.
If you read any of these books, please let us know over on social media!
Get To Know Our Contributor Chloe... in a list, of course!
She recently finished a degree in Politics and Sociology and really enjoys learning about current affairs.
She loves reading more than anything else and spends most of her free time discovering new literature.
She hopes to one day have a career based around writing and is currently looking to get involved in Public Relations.
You can read more of Chloe's writing over on her blog, where she hopes to grow a bigger audience and reach more people with her work.